Introduction
Official 【OSHI NO KO】 designs are now available for your profile's About Me section! Show your support for this anime and try out the official design now.
About Me Designs
【OSHI NO KO】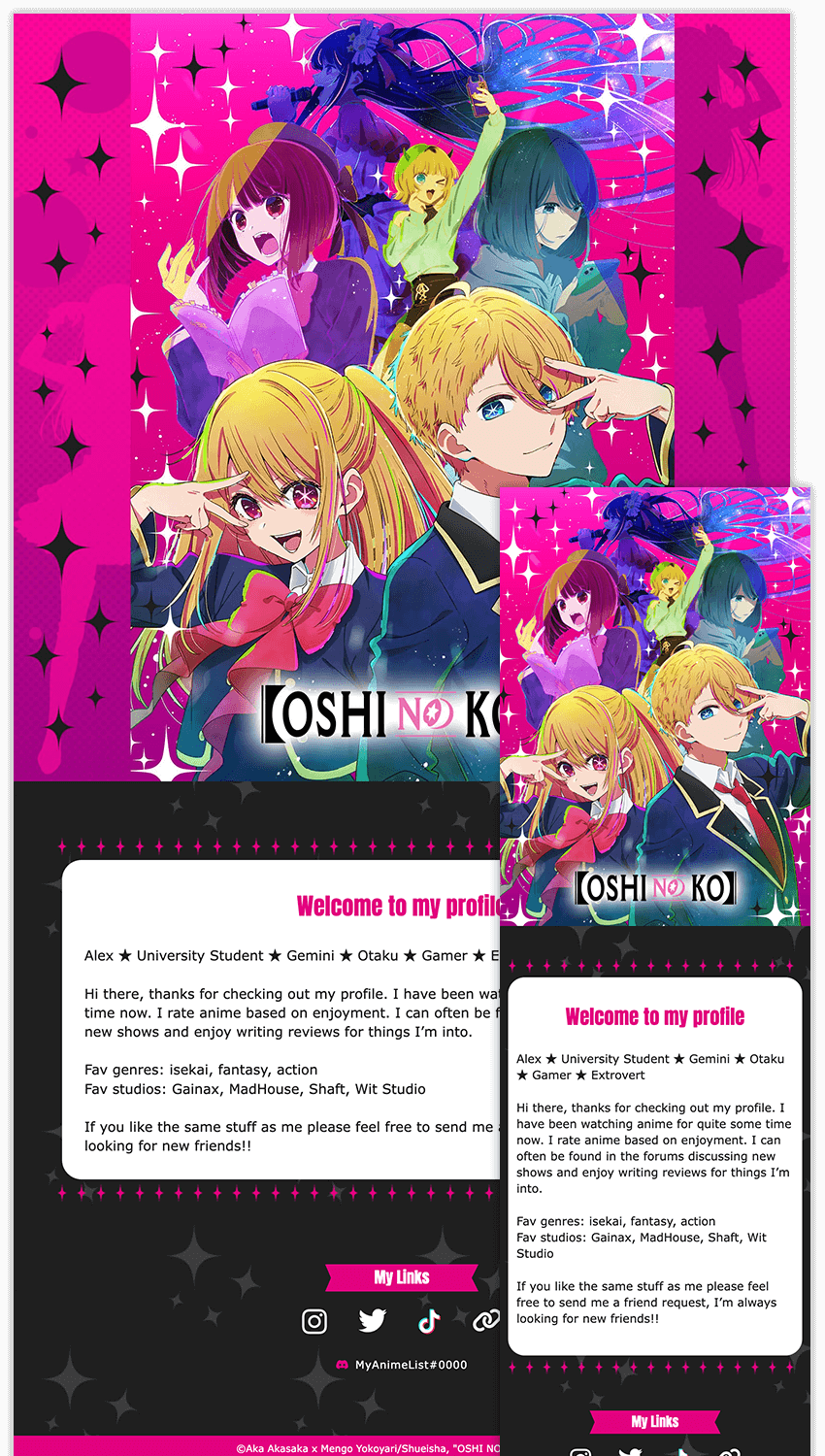 How to Use
Choose the "Anime" tab of the list design templates on the About Me Design page.
Select the 【OSHI NO KO】 theme.
Customize the design with your personal information, as you like.
Make sure you have "Modern" style enabled.
Click Save.
Ranking sections
Please note that ranking sections are not available on official anime collaboration designs. If you have already used a different theme and added ranking images, this information will be saved but will not be displayed.
What is 【OSHI NO KO】?
When a pregnant young starlet appears in Gorou Amemiya's countryside medical clinic, the doctor takes it upon himself to safely (and secretly) deliver Ai Hoshino's child so she can make a scandal-free return to the stage. But no good deed goes unpunished, and on the eve of her delivery, he finds himself slain at the hands of Ai's deluded stalker—and subsequently reborn as Ai's child, Aquamarine Hoshino! The glitz and glamor of showbiz hide the dark underbelly of the entertainment industry, threatening to dull the shine of his favorite star. Can he help his new mother rise to the top of the charts? And what will he do when unthinkable disaster strikes?
Watch 【OSHI NO KO】
Watch 【OSHI NO KO】 via your favorite streaming service.
Please check the official website for a list of streaming services.
©Aka Akasaka x Mengo Yokoyari/Shueisha, "OSHI NO KO" Partners