Introduction
We are pleased to announce the results for the NBCUniversal 30th Anniversary Character General Election, celebrating their glorious 30th anniversary!
Thank you so much to everyone who voted and for all your lovely comments.
NBCUniversal's Top 10 Characters
Delivery of flowers to Starmyu director Shunsuke Tada & exclusive interview
We gave Starmyu director Shunsuke Tada a bouquet of flowers arranged to represent the winning character Shuu Kuga as congratulations!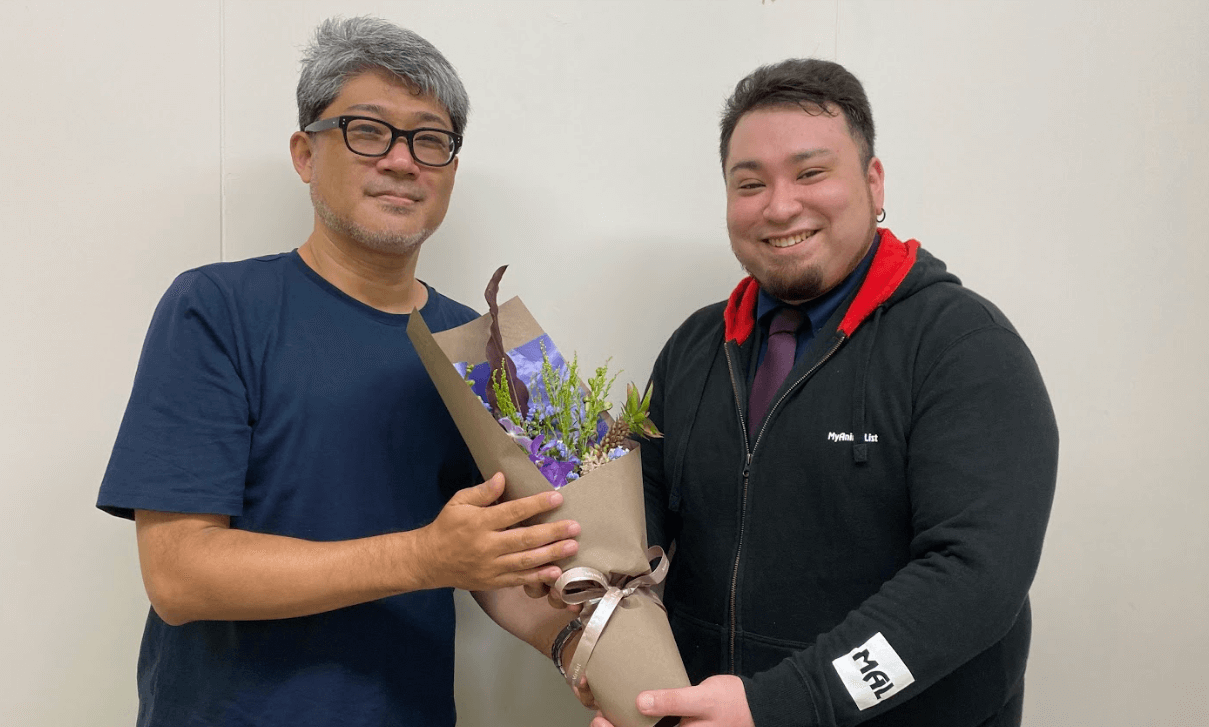 Interview:
NBCUniversal is celebrating their 30th anniversary! Please share with us any comments or memories you have with NBCUniversal.
Although I was of course already familiar with NBCUniversal, Starmyu was my first opportunity to work with them, so I had no idea what sort of team I would be working with or how we would approach our project. From the moment I met the producer Mika Sugimoto and the rest of the team I thought, what an interesting group of people I'd found (laughs). It was in that richness of character that this project was created. We started working on Starmyu in 2013 and it was broadcast in 2015, so if you include the production period, this year marks the 10th anniversary of Starmyu, too.
With passionate fans from around the world, Starmyu has taken the top spot in NBCUniversal's Character Election. Please tell us how you felt when you heard the news.
I was actually very surprised! Kuga-kun was loved by everyone at the studio too, and I think there's probably no one who dislikes him or finds him uninteresting. But to me personally Kuga-kun probably sits at number 2, a cool character who is loved by and supports the rest of the cast, so I was like "it's you at the top!?" when I heard he won (laughs).
Kuga-kun is a character who is loved and trusted more for who he is as a person rather than for his role as a stage performer. Because of that I personally ranked him second, so when I heard he had taken the top spot I was very surprised.
Much of Starmyu's charm comes from its rich cast of characters and musical elements with outbursts of song, but in the director's opinion what is it about the show that is particularly appealing?
I feel Starmyu's charm comes from the singing scenes in each episode. It was really difficult to include them in every episode, but it became a distinguishing characteristic of the anime, and viewers looked forward to it every week.
Another great thing about the anime is how the songs are created alongside the characters' daily lives at school and what's going on in the story. Starmyu is not an idol anime, but a musical anime based on school life, which means the songs must use the anime's story as a base – the songs need to exist in conjunction with the storyline. So the songs were created to match the storyline and written into the singing scenes. It was a lot more complicated than I anticipated to make happen, but I think it's one of the parts of the show that is really appreciated by fans.
When thinking back to Starmyu's production period, do any memorable anecdotes or stories come to mind?
Something that stood out for me about Starmyu's production was how the music production team were so closely involved in the anime production alongside the animators and producers.
The music for Starmyu was treated with just as much importance as its storyline, so we had to work very closely with the music production team to build concepts together and had many many meetings, which was a new process to me and left a deep impression.
When it comes to producing idol anime with characters who simply sing songs, I think it's pretty common for the music production team to just come up with the songs and provide them to the rest of the team. With Starmyu being a musical anime, however, the story and music are entwined together – intros and outros had to be adjusted to match the storyline and character development, and lyrics and melodies were prepared to be in line with the scenes in which they would be used. The music production team, whose field of creativity is totally different to the anime production team, work enthusiastically with the very same sense of closeness and passion to create their work. I've never encountered a team or workstyle like this outside of Starmyu, so I feel like we really made something special.
What kind of character is Shuu Kuga to you?
I think I touched on this in a previous question, but to me he is a character loved by everyone, respected by his peers for his talents, and never found far behind the main character, supporting him.
Kuga-kun's voice actor, Tomoaki Maeno, has a similar vibe. He's reliable but he doesn't have that unapproachable aura of a big-name actor, but nor is he just a chatterbox…his demeanor is very similar to Kuga-kun's (laughs). That's my personal perception of the character Shuu Kuga.
Do you have a favorite character, or a character you think is similar to yourself/identify with?
A favorite character of mine is Kakeru Tengenji. I've said it in various talk shows before, I want him to marry into my family (laughs).
He may be the heir to an important family in kabuki theater, but he has common sense and is able to find his place alongside his peers. His confidence and energy are utterly that of someone raised in a kabuki family, so from a father's point of view I think it'd be a lot of fun if someone like him were my son-in-law.
Like Kuga-kun, he is talented and the sort of person who would take the lead and make a move during a situation, which is what I find cool about him.
Anime is becoming increasingly popular outside of Japan. With this in mind, is there anything you would like to do with overseas fans in the future, either with Starmyu or as an anime director?
Since Starmyu is an original anime, we can't do things like presenting new original drawings or tie-ups with the original work since there isn't one. With that in mind, NBCUniversal instead prepared a variety of talk shows and events for fans.
Over the last few years remote events have been on the rise, so it would be nice to do online events so that fans around the world can participate without the need to travel all the way to Japan.
And finally, please share a few words for overseas fans.
The Starmyu team are hard at work on a new anime set to air in 2023, Opus.COLORs. I hope the MyAnimeList community look forward to this show and expect great things.
We will keep everyone updated with the latest information about the show, so please check out the official Twitter. Thank you!
Official website: http://Opus-COLOrs.com
Official Twitter: https://twitter.com/opus_colors
Synopsis:
What color is the world in which you live?
"Perception Art" has been around in the art world for about ten years. It has now completely permeated the world and is a vibrant part of people's lives. Kazuya Yamanashi, the son of Mr. and Mrs. Yamanashi—famous "artists" and the creators of Perception Art, recently enrolled in the prestigious art institution Eisen High School with his childhood friend Jun Tsuzuki, dreaming of becoming a Perception Artist himself.
Kazuya also had another motive: to rekindle a friendship with "another childhood friend" who had drifted apart after "an incident" ten years ago...
Kyou Takise, a junior grader at Eisei High School majoring in Perception Art, is the son of a well-known "grader" and the creator of Perception Art. He was a childhood friend of Kazuya and Jun, but he has avoided them for years. Kyou's heart was riddled with scars that could never be seen.
Various "colors" collide and overlap with each other. What is the "color" of the scene that meet their eyes?
What is NBCUniversal?
NBCUniversal Entertainment Japan is a multimedia entertainment company, developing and producing a variety of outstanding anime, films, drama and music. As well as distributing content from overseas in Japan, what makes NBCUniversal different from competing studios such as Hollywood is its focus on material from Japan and Asia. Alongside producing and distributing Japanese anime, Asian/Korean drama and Japanese films domestically, NBCUniversal is also a record label, handling distribution for a number of Japanese musicians and providing music for various anime and video games.
©LINK,Kotaro Shono/SHUEISHA,World's End Harem Project
©Toru Toba - SB Creative Corp. / The Genius Prince Committee
©SS-SBCr/ The Strongest Sage of Disqualified Crest Project
©︎KEIGO MAKI, KODANSHA/Shikimori's Not Just a Cutie Production Committee
What is the NBCUniversal 30th Anniversary project?
Beginning in 1992 with the Tenchi Muyo! OVA, 2022 marks NBCUniversal Entertainment's 30th year in business and counting.
The last 30 years has seen a huge expansion of the anime market on a global scale, which means that there is now intense rivalry not only between production companies but also between streaming platforms and other anime-related businesses. While taking a look back on these last 30 years, a special 30th anniversary project is being launched as a starting point for the years to come.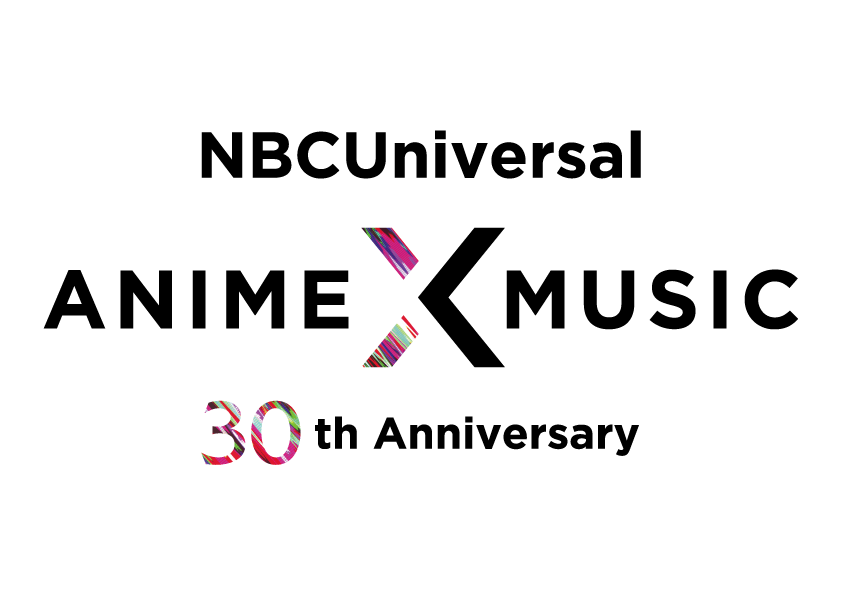 The concept for NBCUniversal's Anime×Music 30th Anniversary project is "multiply" (×).
NBCUniversal aims to combine anime, music and people together to create something above and beyond.
Just like the × in ANIME×MUSIC, by crossing two ideas together, this project will bring forth something new to enjoy and set the stage even higher for the future.
*Site in Japanese and English