SHUEISHA MANGA-ART HERITAGE 2nd Anniversary
Shueisha Manga-Art Heritage (SMAH) began in March 2021 with the vision of "manga as an art form that deserves to be passed down".
Online art gallery SMAH sells museum-quality prints, each accompanied by an NFT certificate of authenticity. It features a collection of famous works by renowned artists such as One Piece by Eiichiro Oda, Bleach by Tite Kubo, The Rose of Versailles by Riyoko Ikeda, Innocent by Shinichi Sakamoto, Tenjou Tenge by Oh! Great, and others. With more than 1,000 pieces sold around the world, and in celebration of its second anniversary, SMAH continues its mission of preserving manga as a cherished art form and is grateful to everyone who helped make this milestone possible.
In 2023, SMAH is welcoming a powerful new collaboration between Keiichi Tanaami and Fujio Akatsuka.
The following exhibitions will be available for lottery sales from March 23 to March 27, 2023 (JST).
Real Color Collection: Eiichiro Oda's "ONE PIECE / In the Sky Part 3"
This collection features a diverse range of expressions that take place in the sky, including flying, running, and falling. Prints are made using archival inkjet printing on 100% cotton Velvet Fine Art Paper.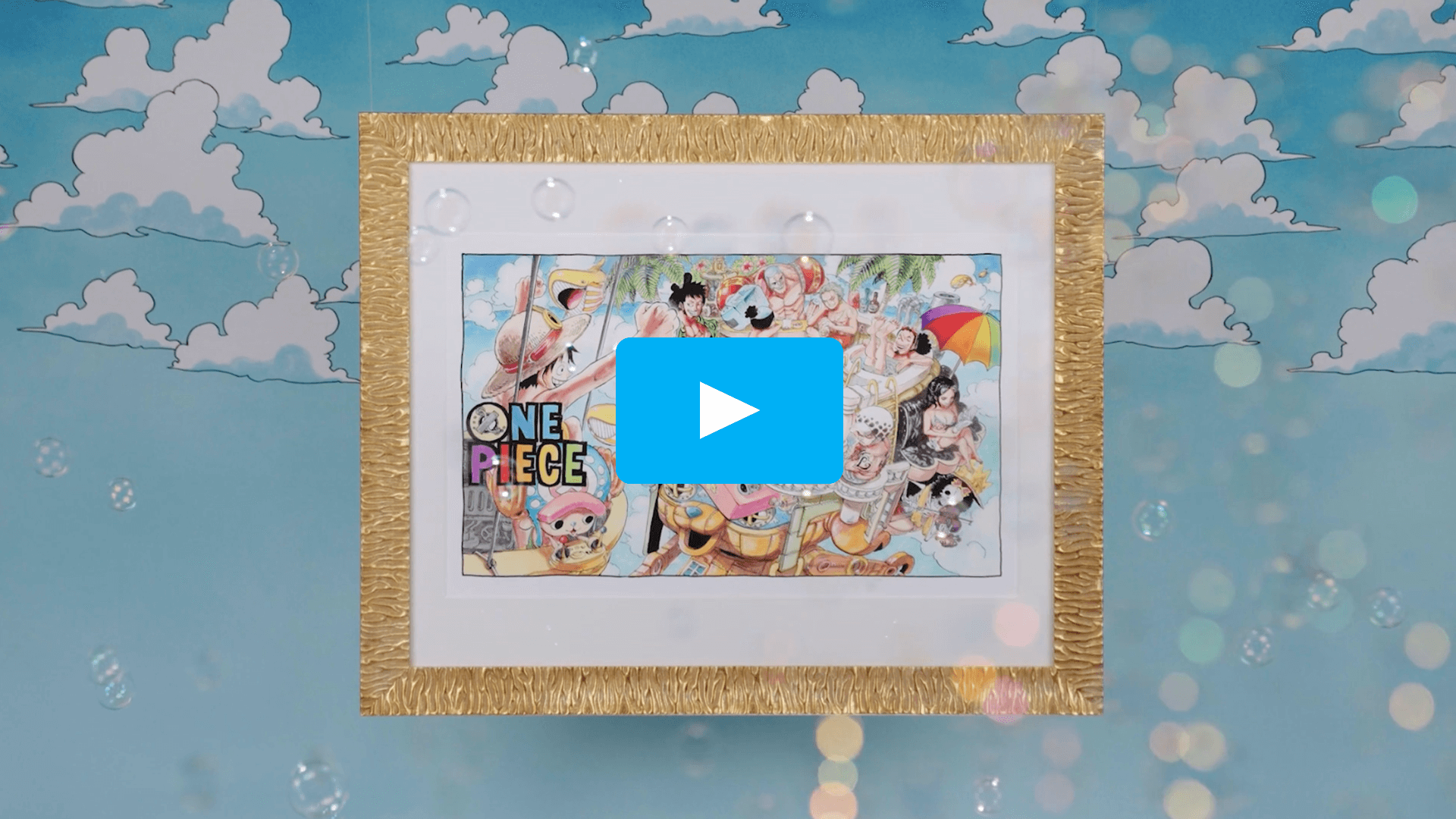 Real Color Collection: Riyoko Ikeda's "The Rose of Versailles"
The Rose of Versailles was first serialized in 1972. Its beautiful lines, dynamic composition, and overall elegance continue to charm us even half a century on. A video featuring violinist Teiko Maehashi has been created by SMAH as a special collaboration.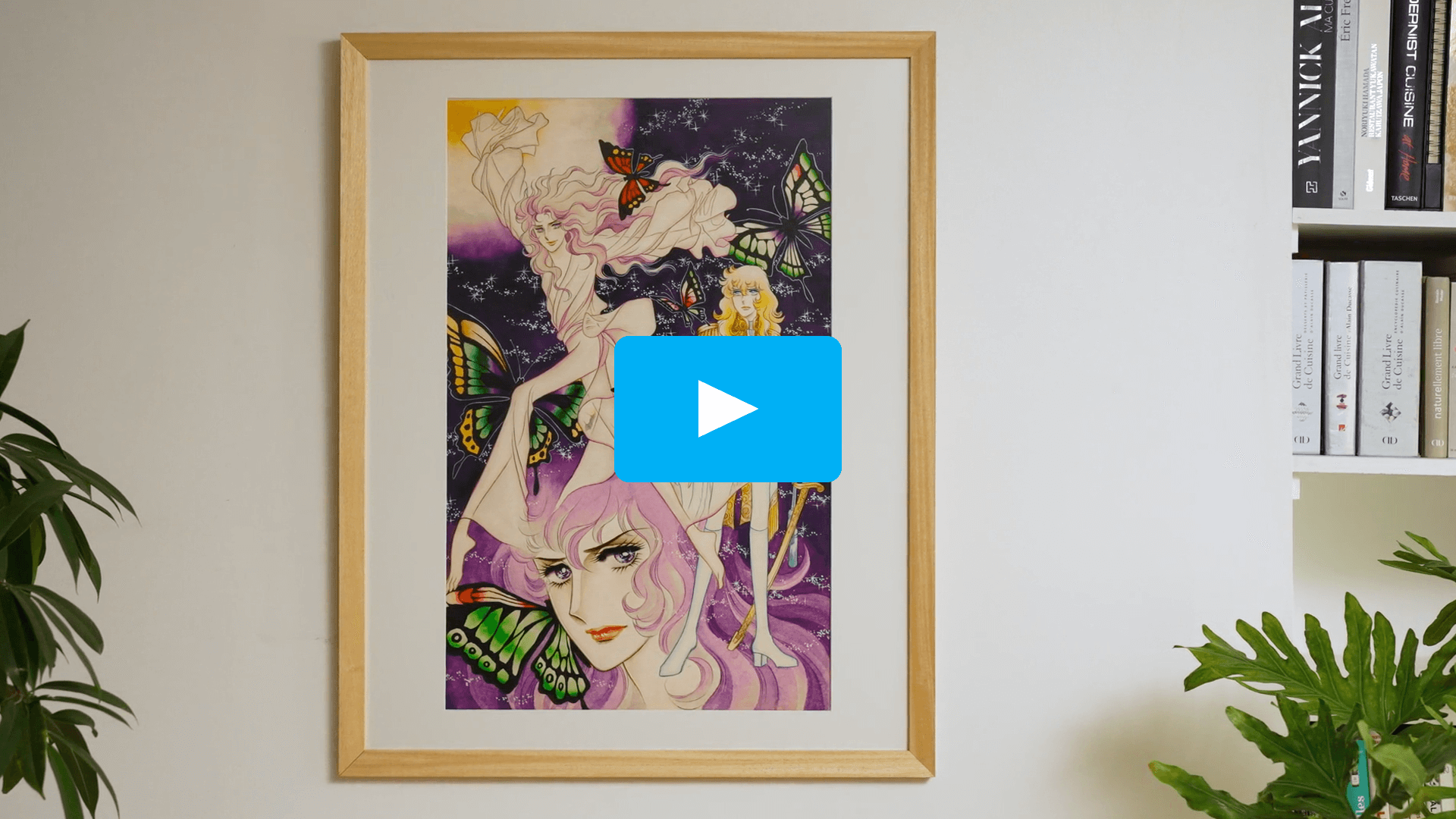 The Press: Eiichiro Oda's "ONE PIECE / Accepting the Challenge"
Taking inspiration from the original black-and-white manga storytelling, SMAH has gone back to manga's roots and printed this piece using a large German-made Heidelberg printing press from the 1960s. The result is a unique art print with a distinct texture created by the indentations on the paper's surface. This print features a famous scene from the Enies Lobby arc of One Piece.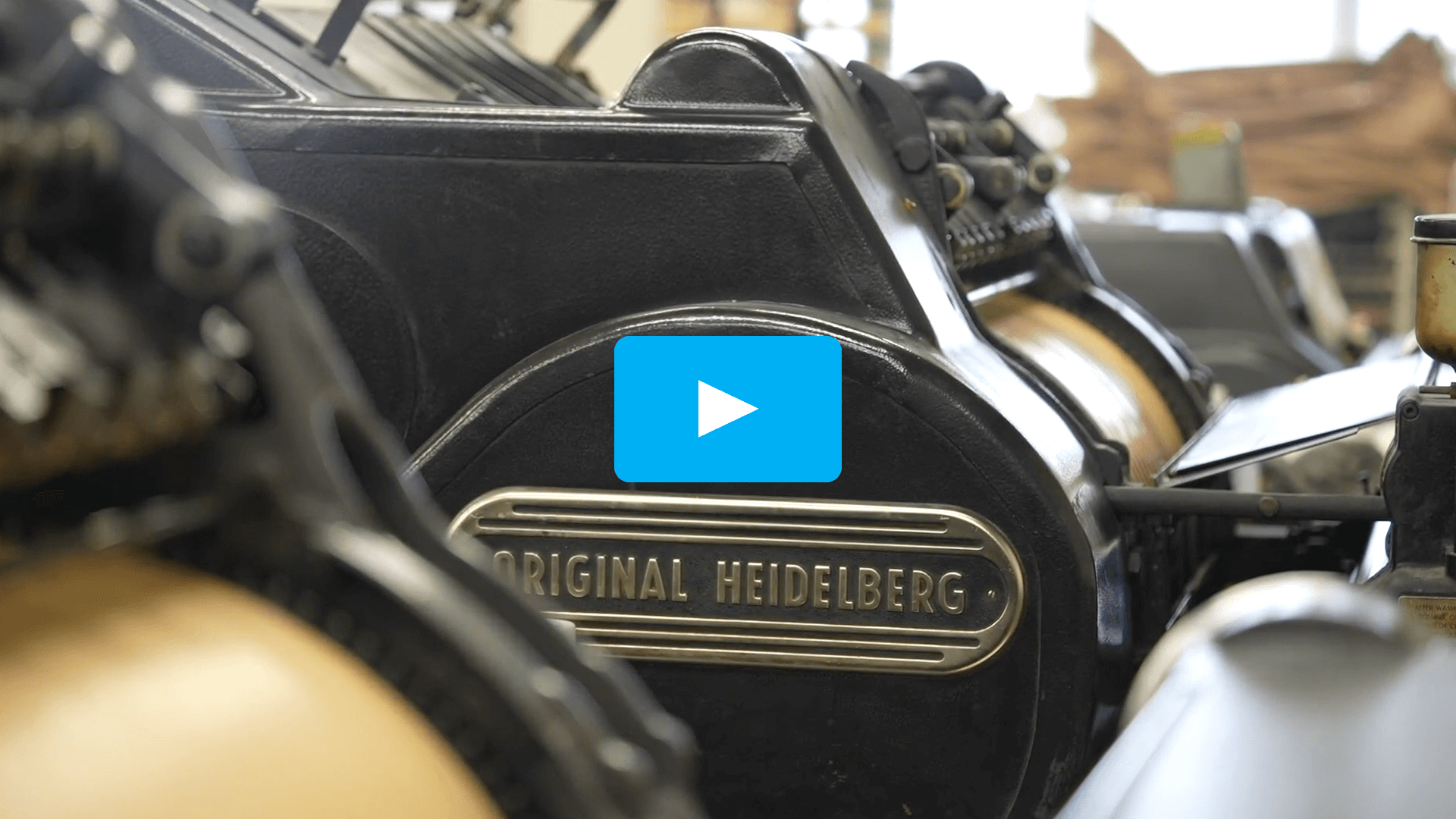 Last Gravure: Keiichi Tanaami x Fujio Akatsuka "TANAAMI!! AKATSUKA!! / Revolver"
Fujio Akatsuka (1938~2008) was a manga artist known as the "King of Gag Manga", renowned for works such as Tensai Bakabon and Osomatsu-kun. Artist Keiichi Tanaami (1936~), who always dreamed of becoming a manga artist, freely references, transforms, and metamorphoses Akatsuka's characters. The historic gravure printing press was used to produce this stunning collaboration.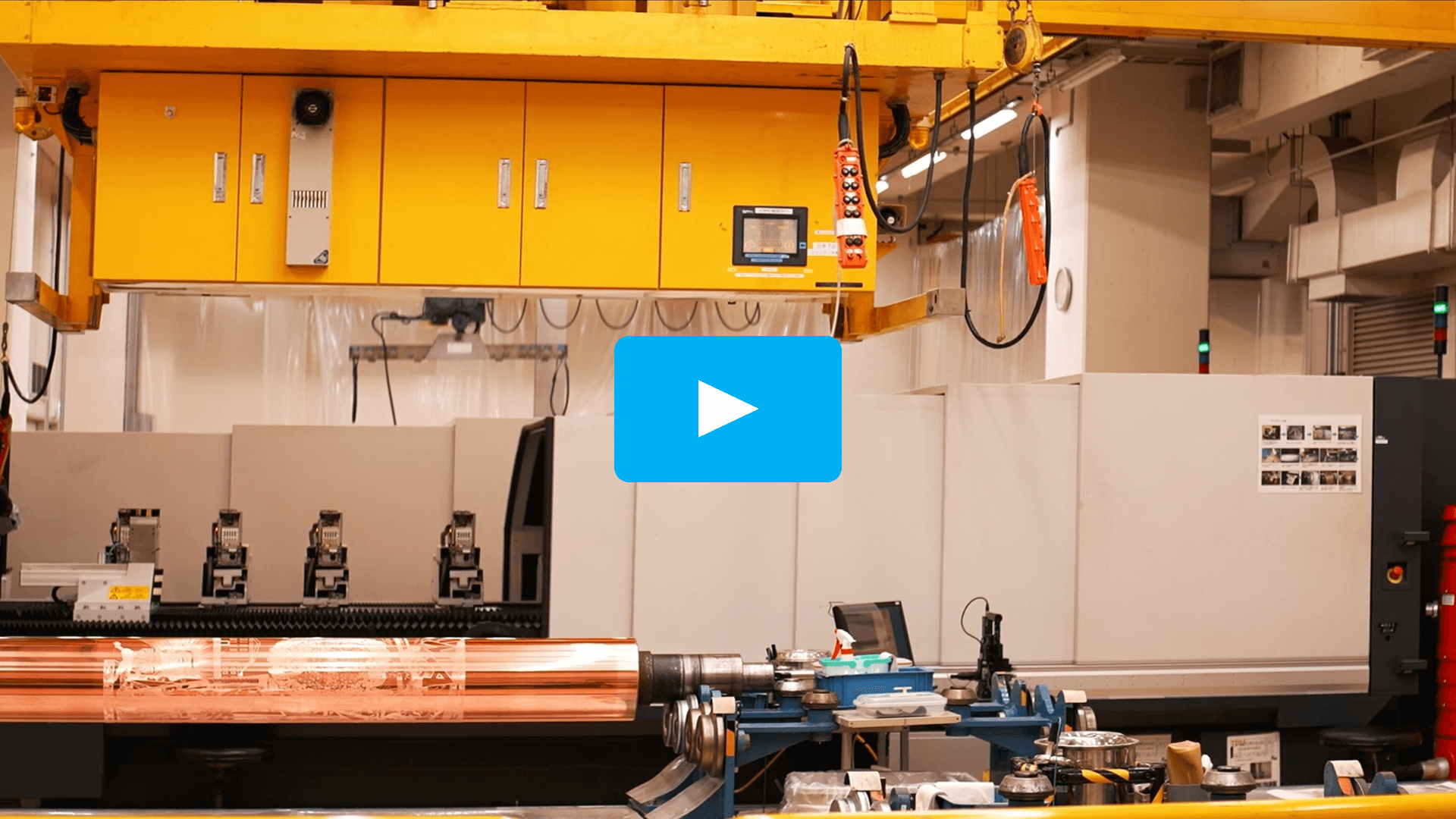 Interview about the MANGA-ART HERITAGE and its art works
1. Please share a little bit about the project's background.
Manga is drawn with the intention to print. Many manga are published weekly and therefore drawn in a short time period, with analog manuscripts often on paper that fades and degrades easily, and with digital manuscripts that have no guarantee on long-term storage and usability. With this in mind, we wanted to create something that can be preserved and inherited by the next generation by using the best possible paper and printing methods available. Opportunities to showcase manga in the context of fine art grew on an international scale following the manga exhibition held at the British Museum in 2019, which led us to starting the Shueisha Manga-Art Heritage project (SMAH).
SMAH, Shueisha's first global EC project, celebrated its second anniversary in March. Over these last two years we have produced a variety of manga prints and projects: the "Real Color Collection"; jet-printed on 100% cotton paper with archival inks, "The Press"; printed with a 1960s German letterpress machine on German Gmund paper, "The Millenium"; collotype-printed in Kyoto on original handmade paper from Mino, Gifu, and "Last Gravure"; a collaborative work between Keiichi Tanaami and Fujio Akatsuka using gravure printing. Each print has been sold with a certificate of authenticity made using blockchain technology.
By combining a variety of printing techniques and paper types connected to history with the latest blockchain technology, we have been able to create a never-before-seen kind of manga artwork that is both old and new. In particular, the continued use, preservation and documentation of traditional techniques used for these works make them meaningful as well as beautiful pieces of art.
2. How do you determine which scenes or characters are chosen for the artwork?
For works like ONE PIECE where a vast number of color illustrations already exist, artworks are sometimes chosen based on a certain theme like with "In the Sky" and "In the Sea". However, for single-color print projects like "The Press" which involve reproducing pages from the manga, candidates are narrowed down by votes cast by readers, which we refer to when making the final selection. In some cases, an entirely new piece is created especially for the project after meeting with the artist, as with Shinichi Sakamoto's Innocent.
"In the Sky"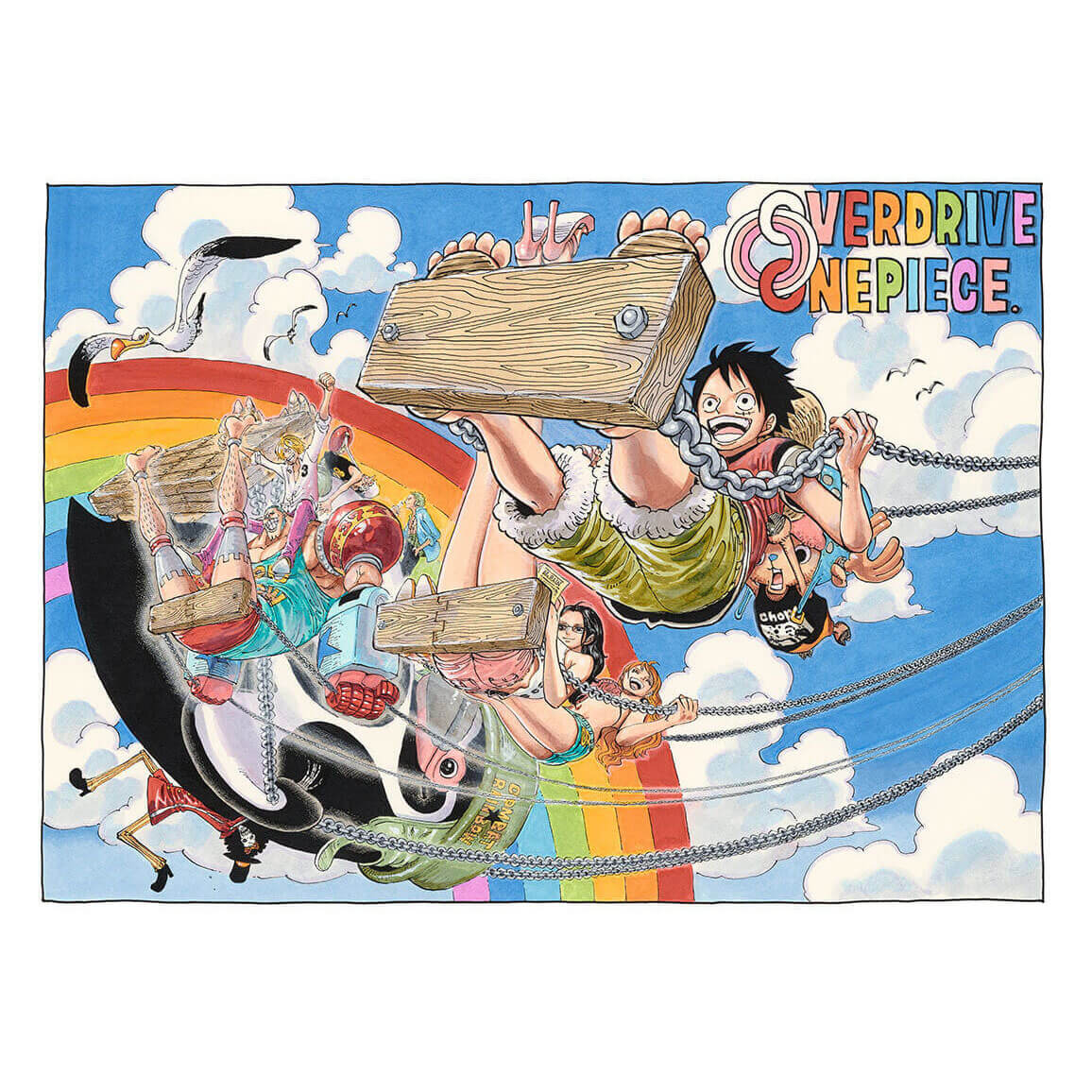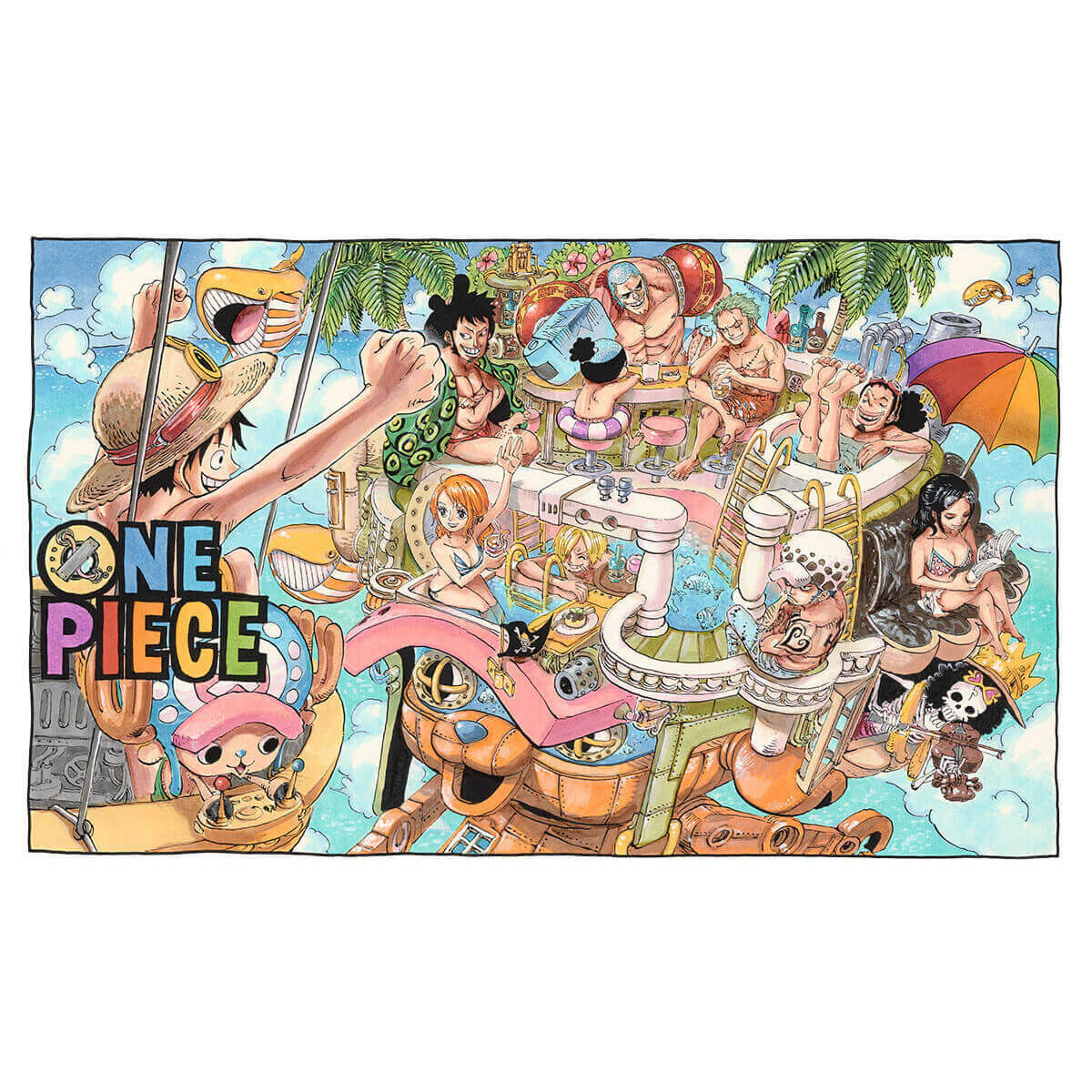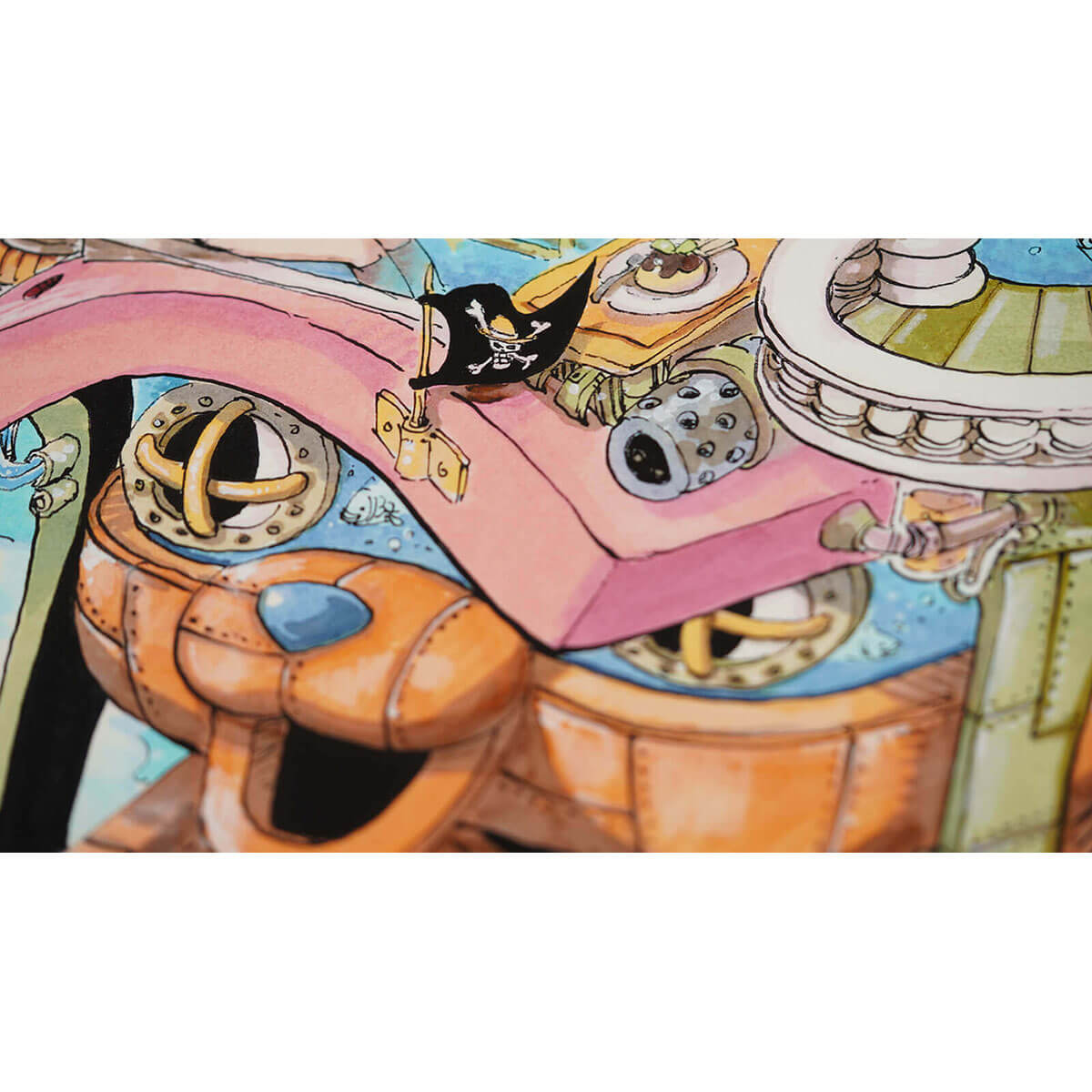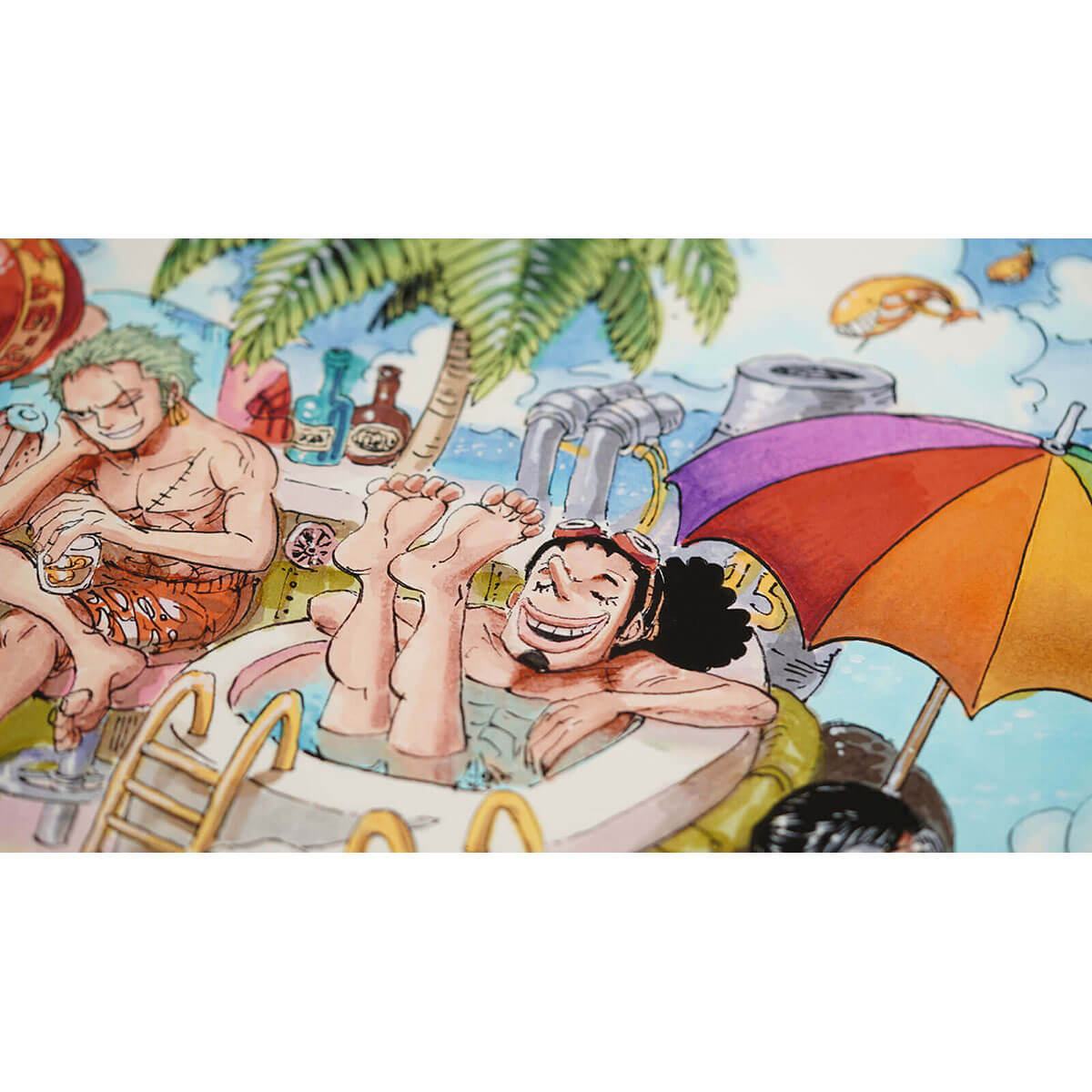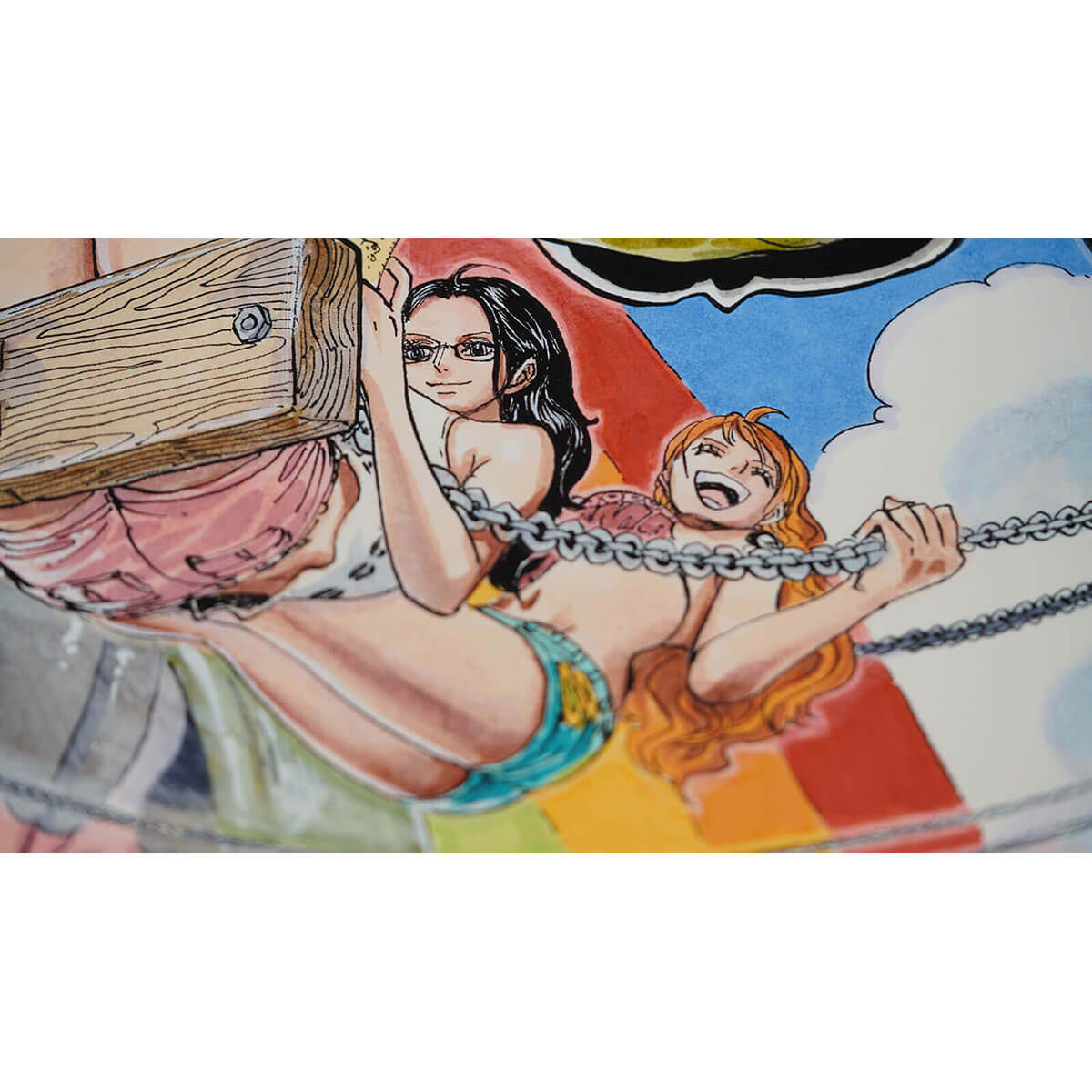 "The Press"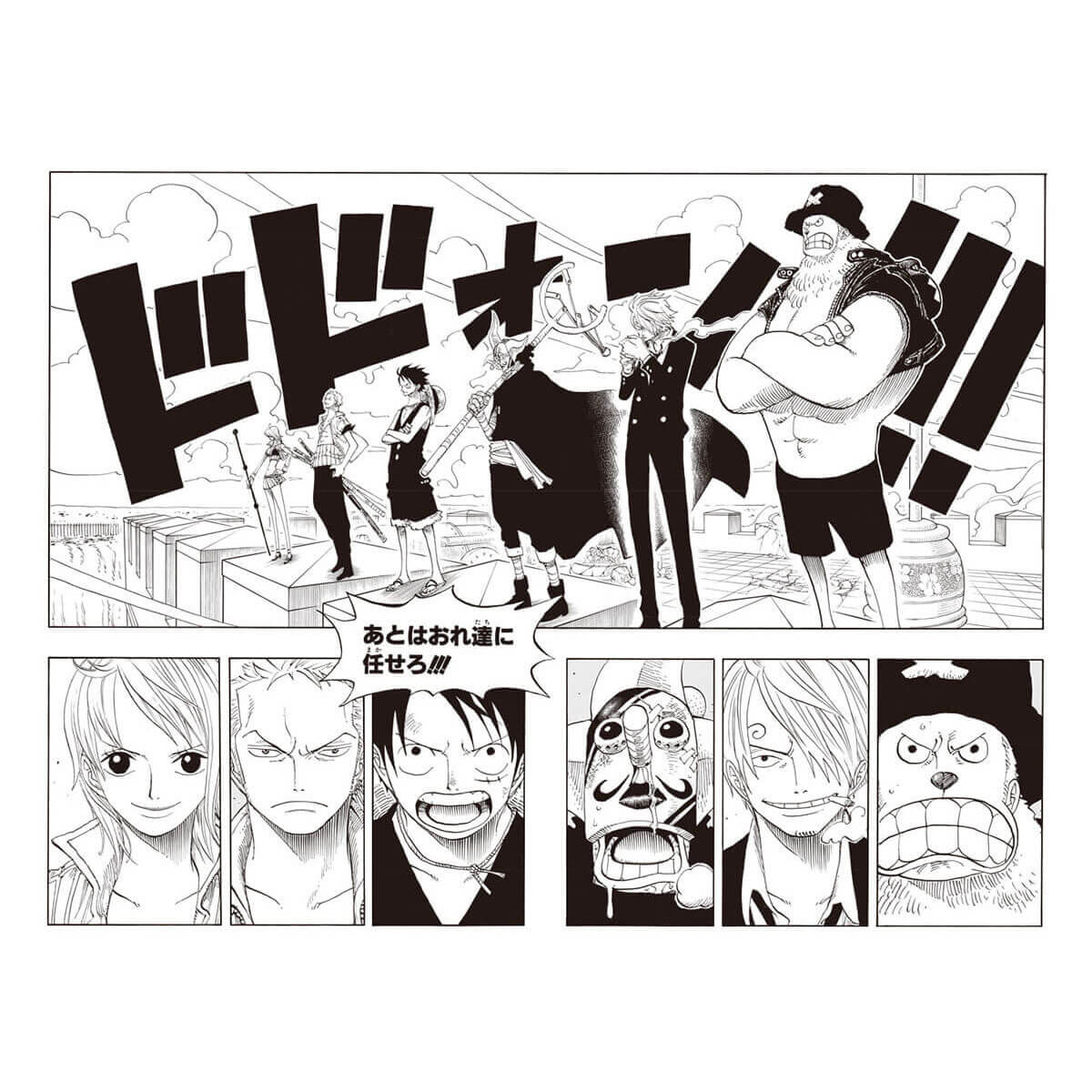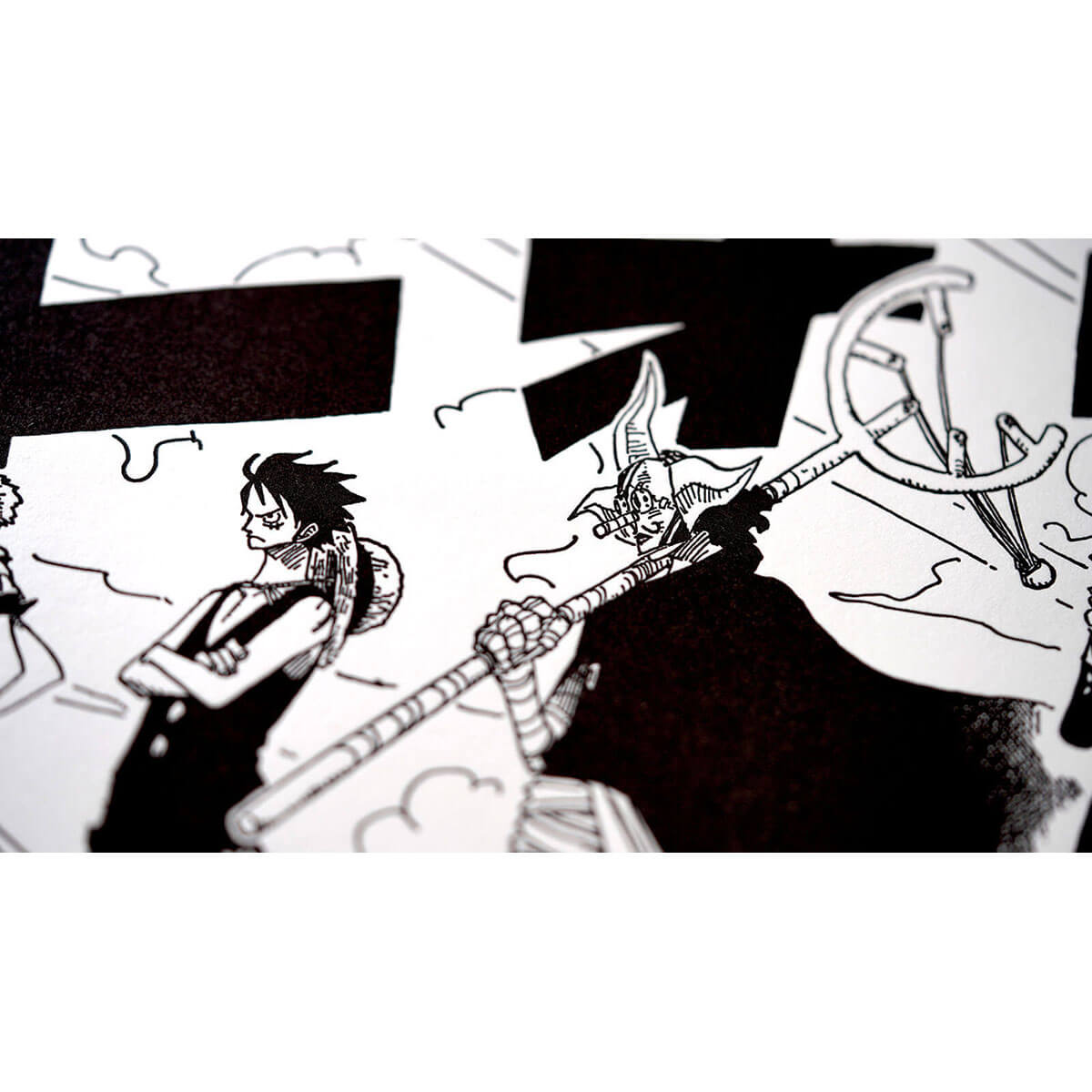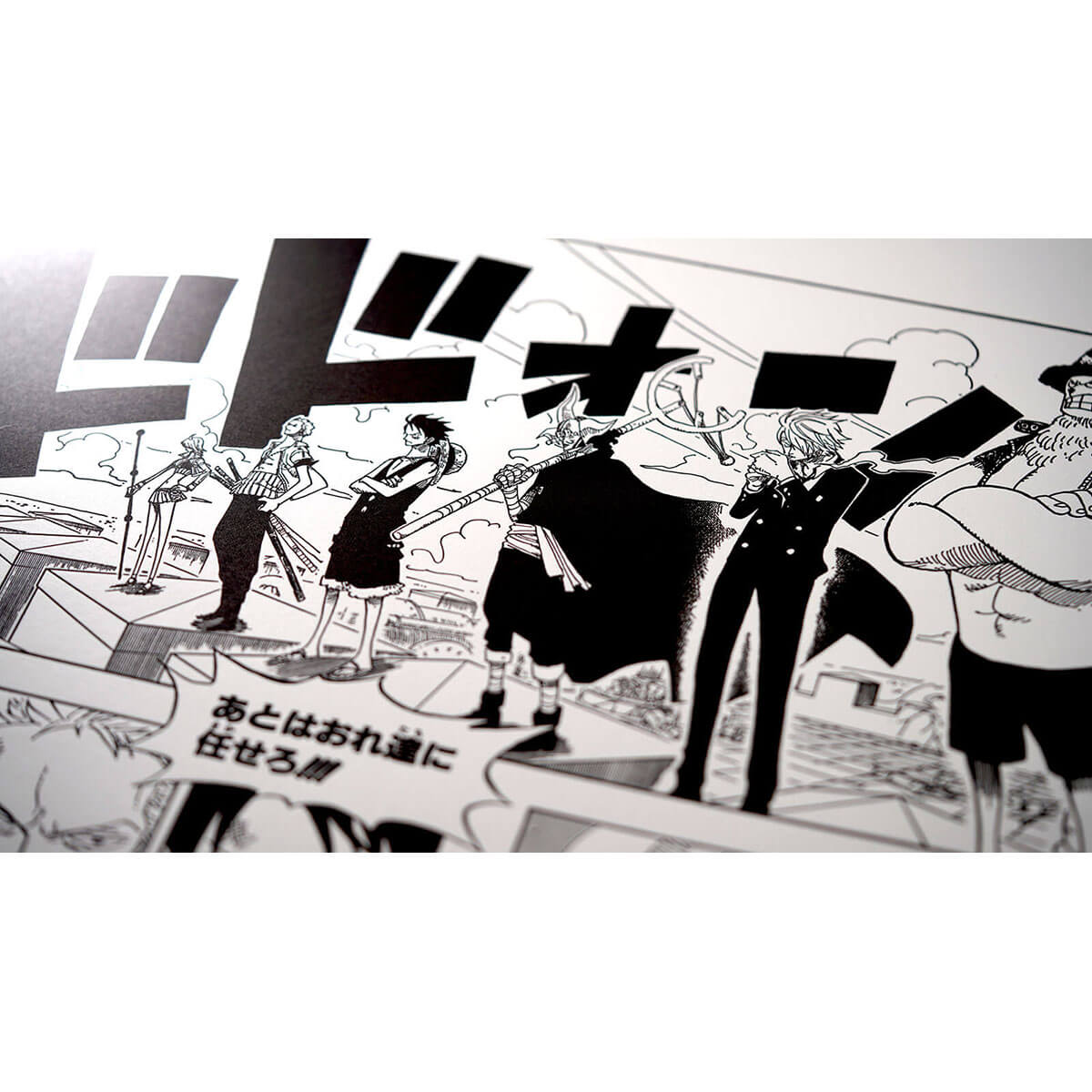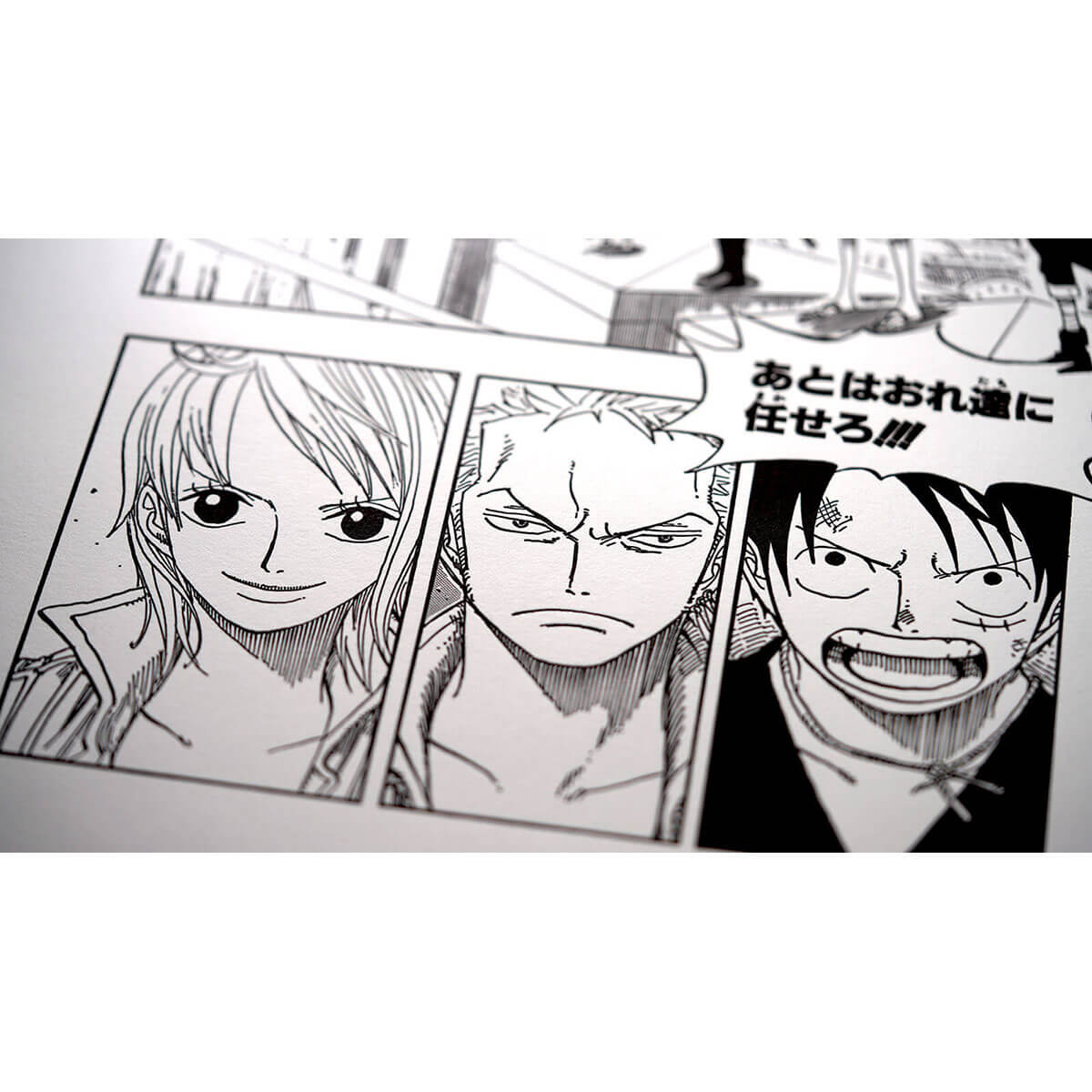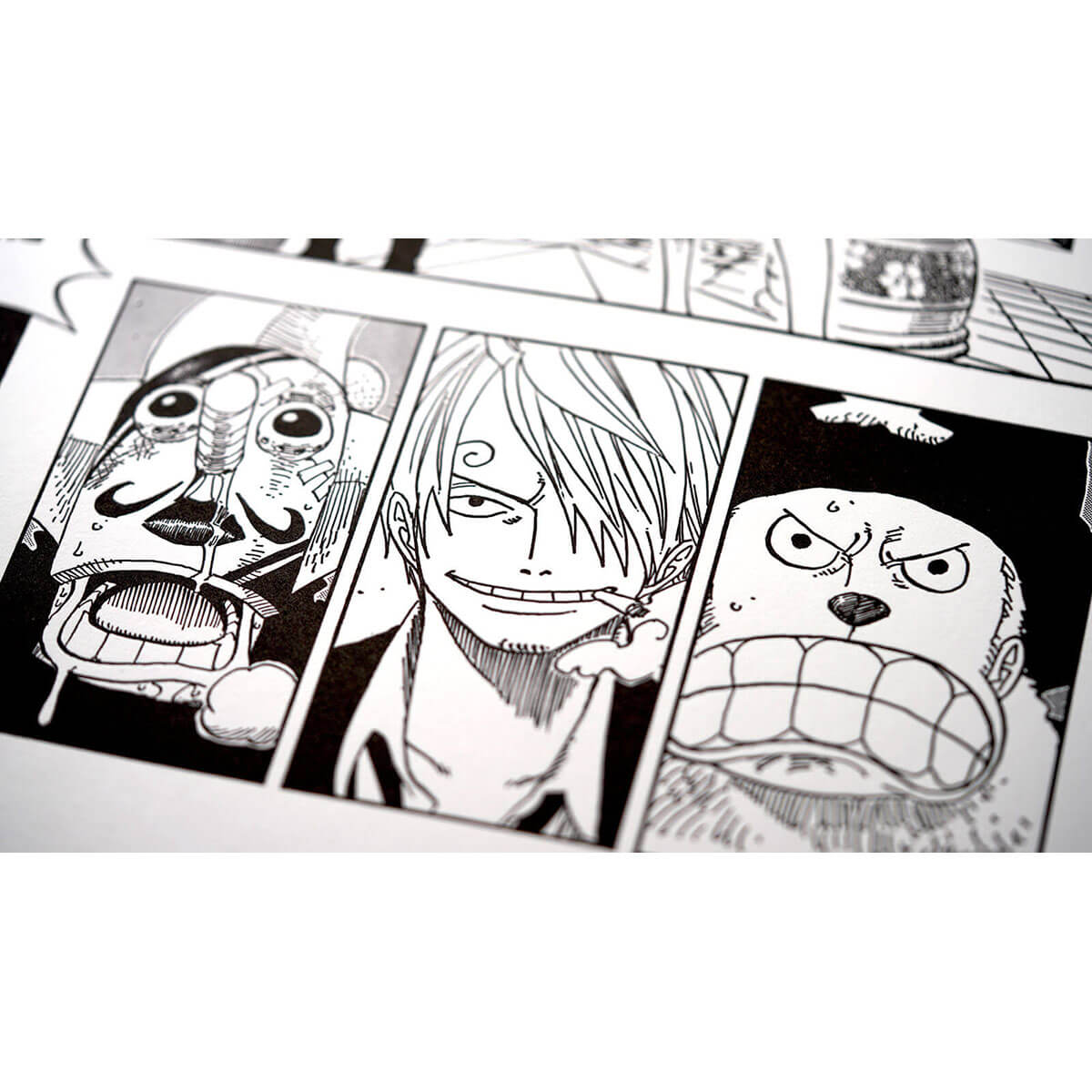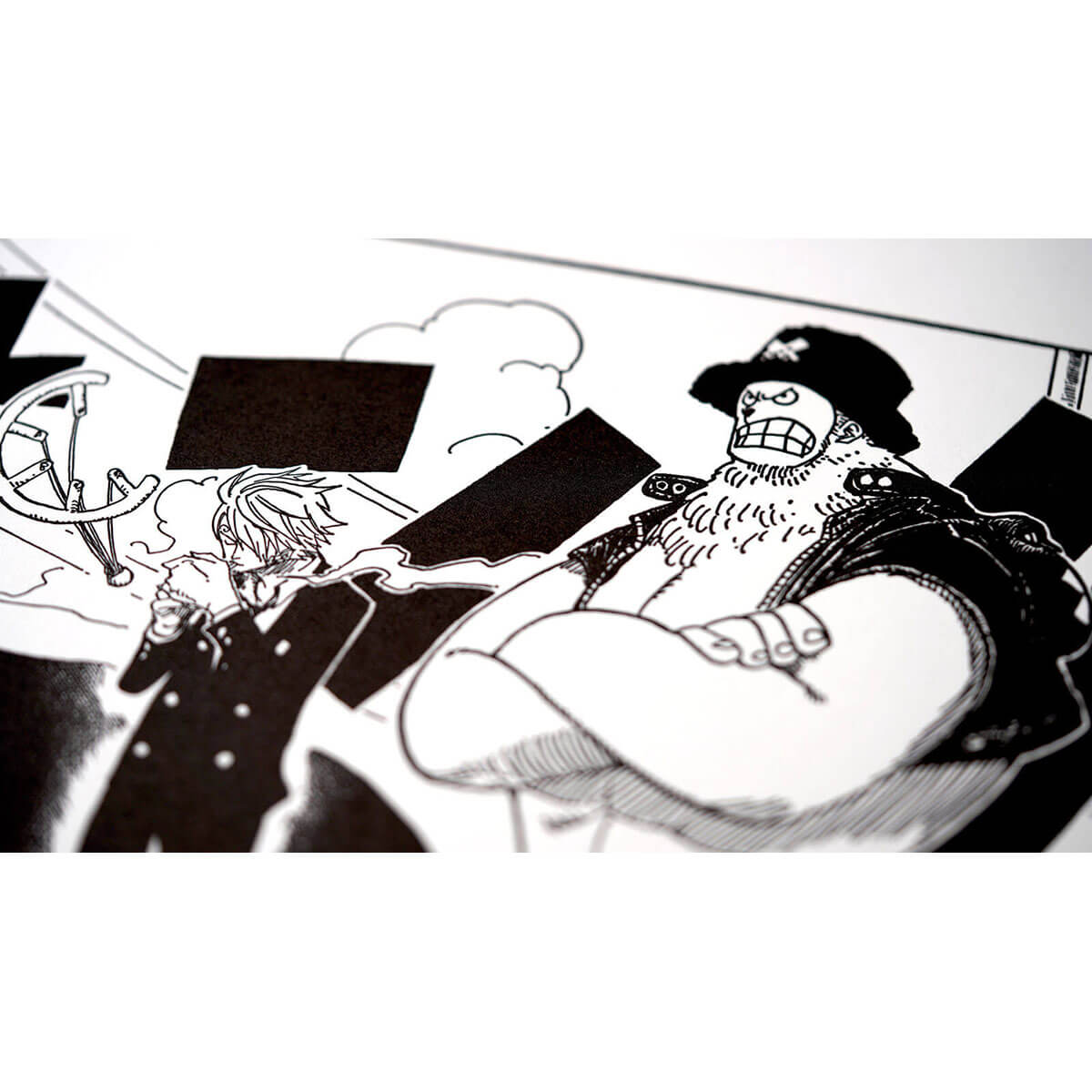 When SMAH started, due to the global pandemic it was very difficult to hold any exhibitions in person. To compensate for this, we focused efforts into making rich video content for the web in order to capture the artworks beautifully and highlight the themes present. This was achieved through a variety of means, such as choosing to shoot on site in unique locations, including the surroundings, and incorporating a wide range of musical collaborations from violin to satsuma biwa.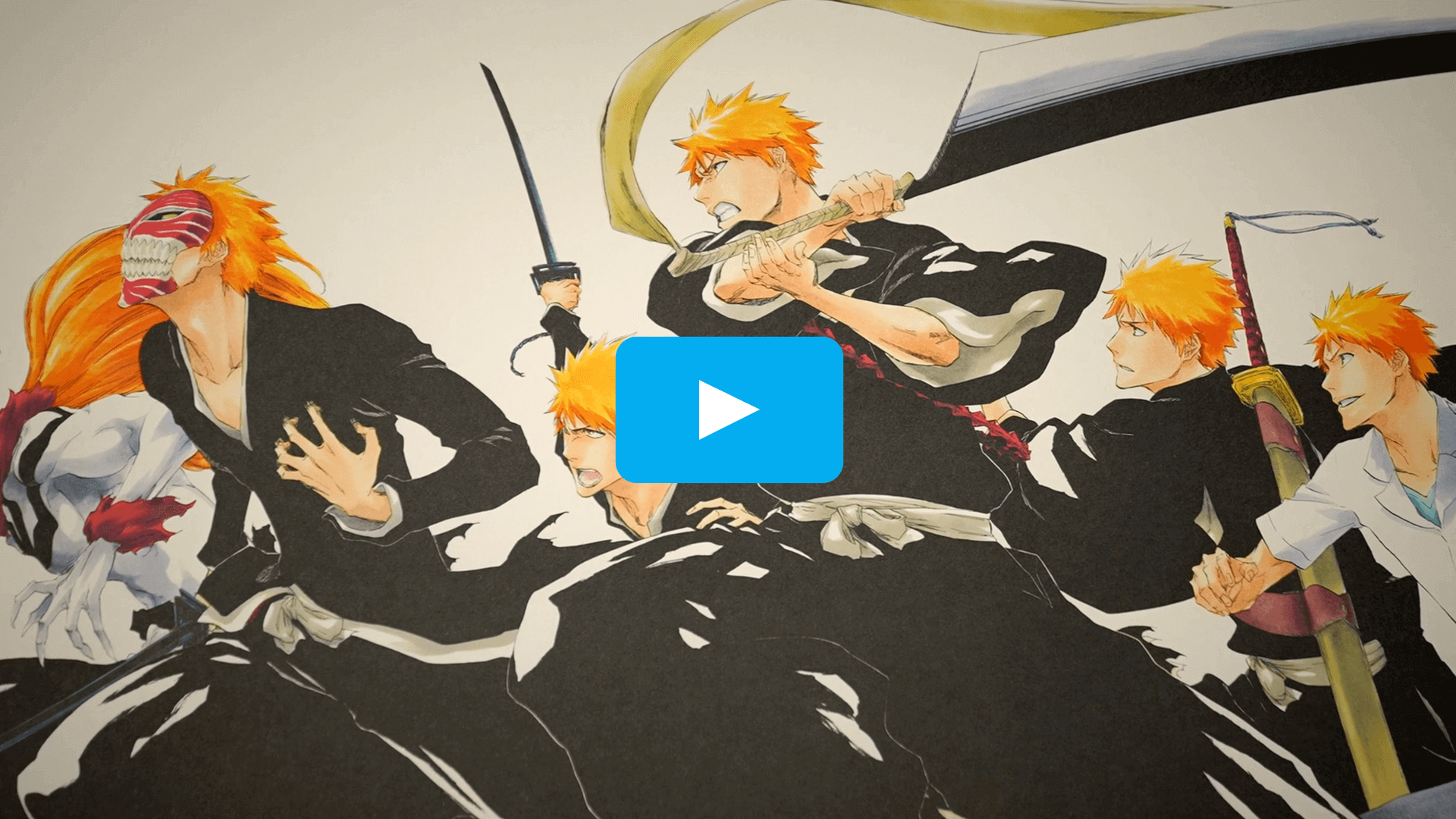 3. What kind of advanced technology and materials are you using to achieve the high quality and depth of color in the artworks?
Analog pieces are photographed using Phase One's Cultural Heritage series, with a color management environment in place to ensure the best possible digitization. In order to restore their original vibrancy, the artwork is retouched digitally before printing to give that freshly-illustrated feel. Prints are produced using archival inkjet inks on 100% cotton EPSON Velvet Fine Art Paper in both original and enlarged A1 sizes.
The monochrome "The Press" series, on the other hand, is a return to manga art's roots - "manuscripts drawn and printed in black and white." Using a German 1960s letterpress machine, which have become rare in Japan, we print on fine 100% cotton paper made by German company Gmund. We call it "Gutenberg meets Blockchain" and believe that a new value has been created in this crossing of old and new.
Similarly, "The Millenium" project aims to carry the work of BLEACH into the next millennium by using paper that has been in use for one thousand years, which is handmade in Mino, Gifu but printed with the only color collotype printer in the world, located in Kyoto.
4. When approaching Tanaami about the project, what was the reason for selecting Fujio Akatsuka's work for the collaboration?
Keiichi Tanaami, now an internationally acclaimed artist, was born in 1936. As a young boy he loved manga and was particularly influenced by the works of Osamu Tezuka, aspiring to become a manga artist. Having been involved in art direction and design for magazines since his student days, he was the first art director for the Japanese Playboy magazine. When we asked him about creating a piece using gravure printing, he said, "Shueisha is all about manga, right? Why don't we do something with a manga artist? How about Fujio Akatsuka?" King of gag manga, Tanaami has a lot of respect for Akatsuka's work, and actually met him once at bars in Shinjuku in the 1970s, although due to Akatsuka's complex feelings about manga, he could not speak openly. Over the period of half a century Akatsuka produced dozens of magical works such as "Tensai Bakabon", "Osomatsu-kun" and "Himitsu no Akko-chan". Their ever-changing, poppy, punky nature made them perfect for this project.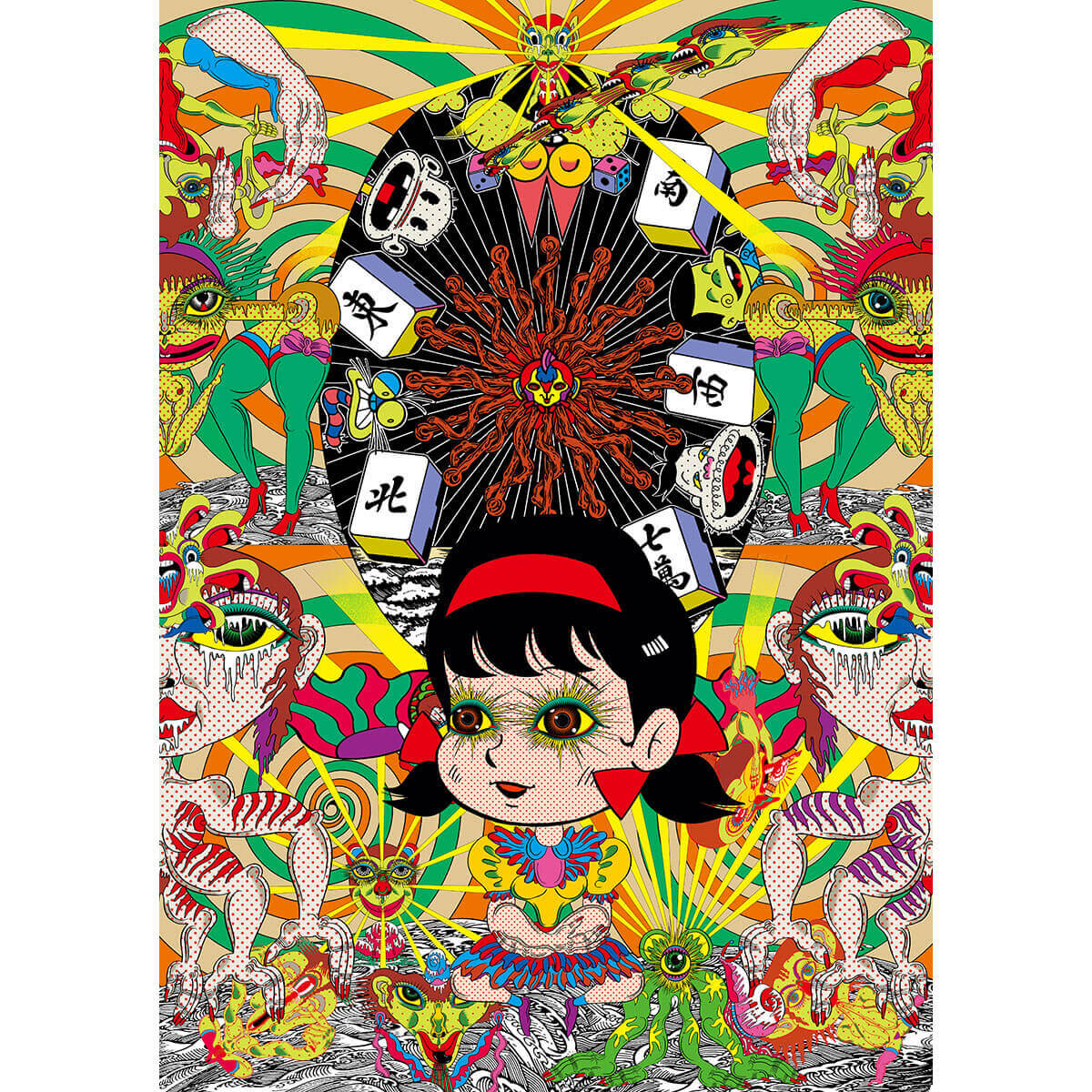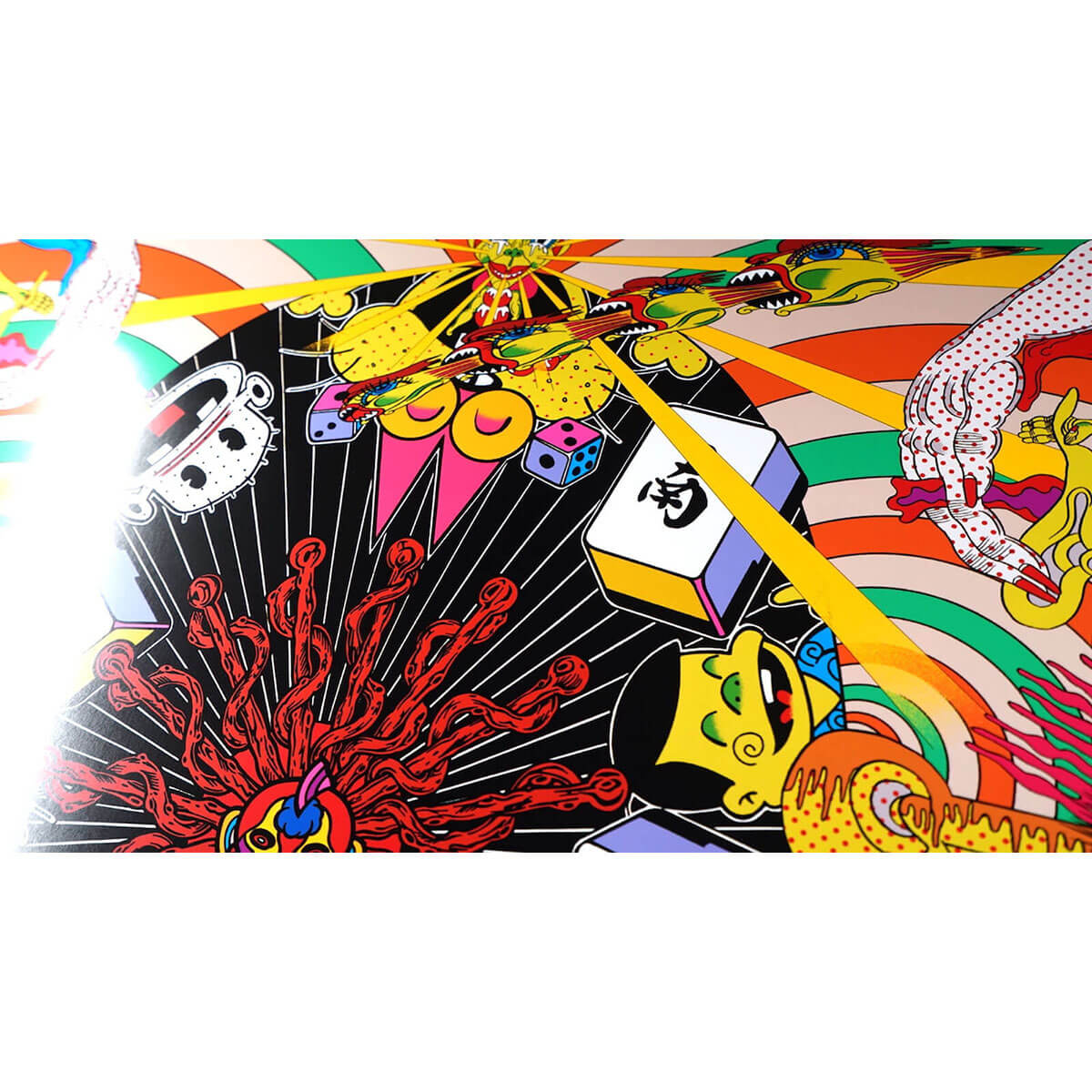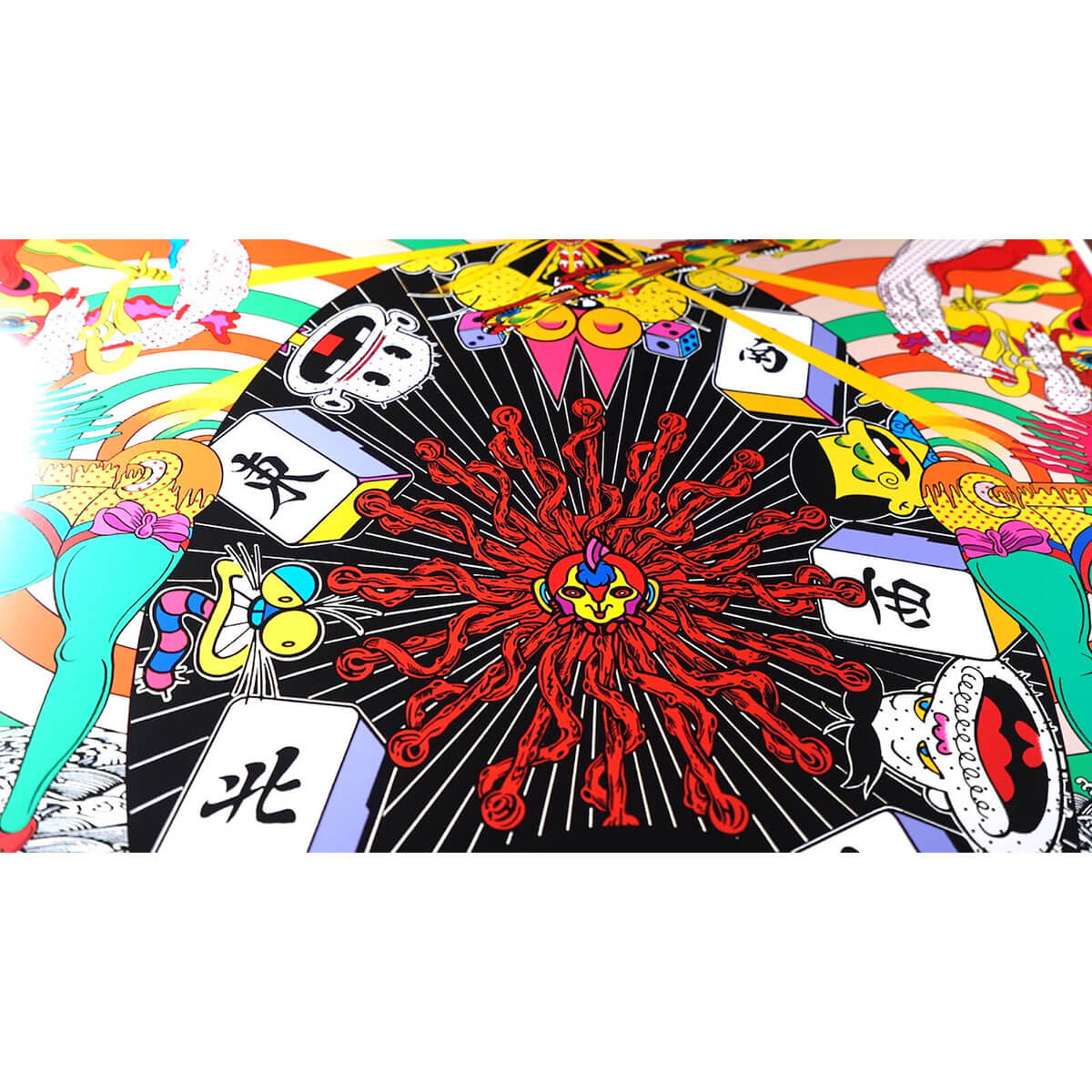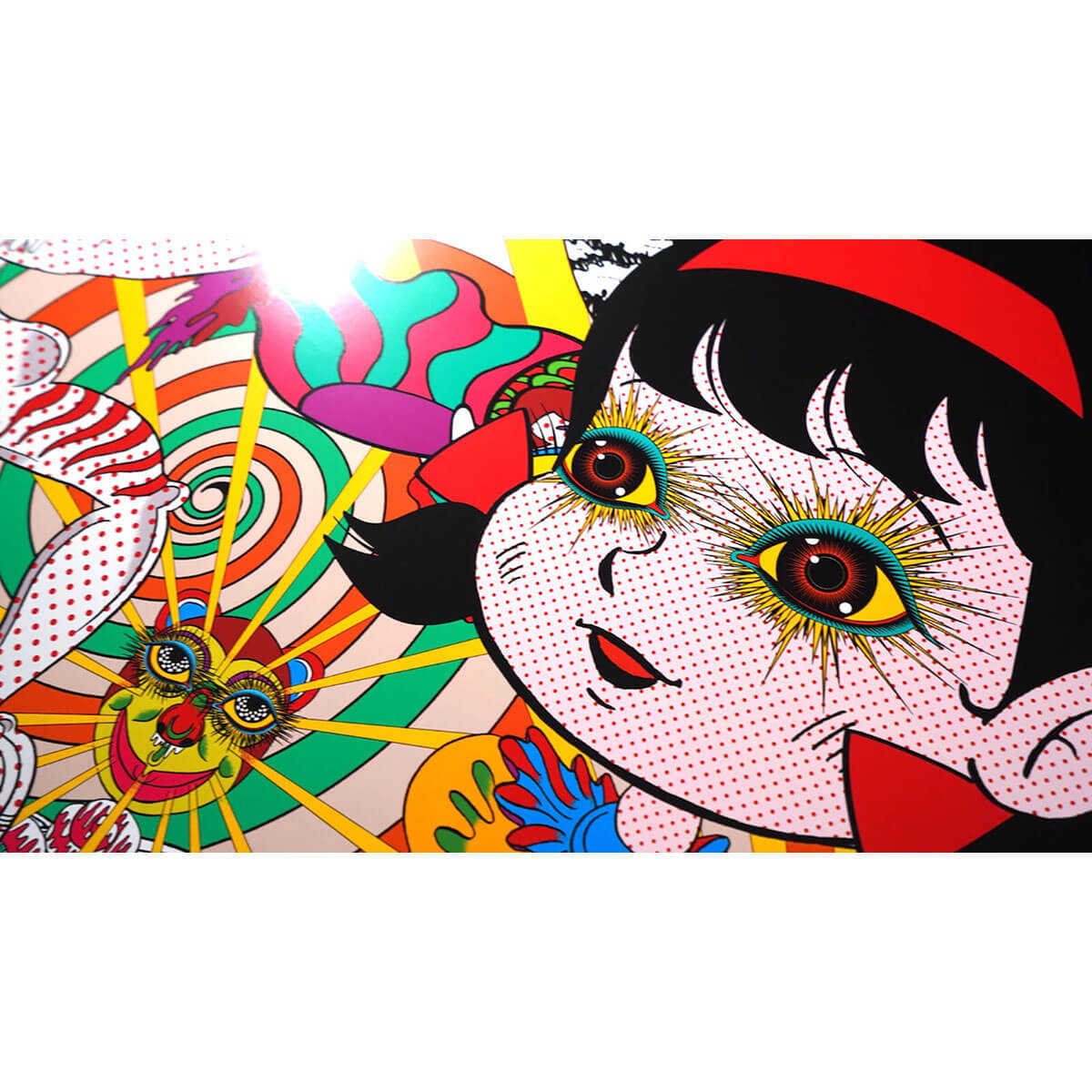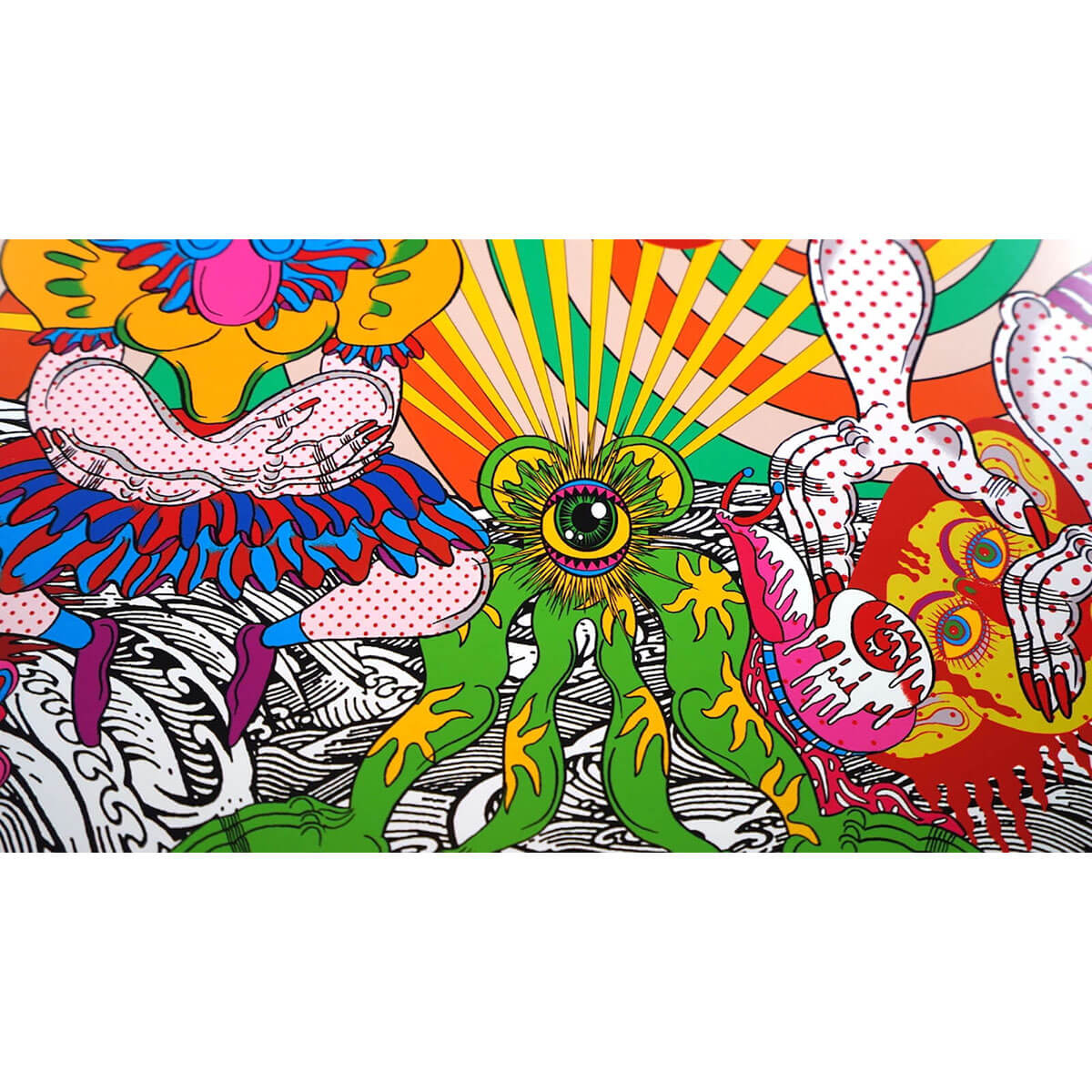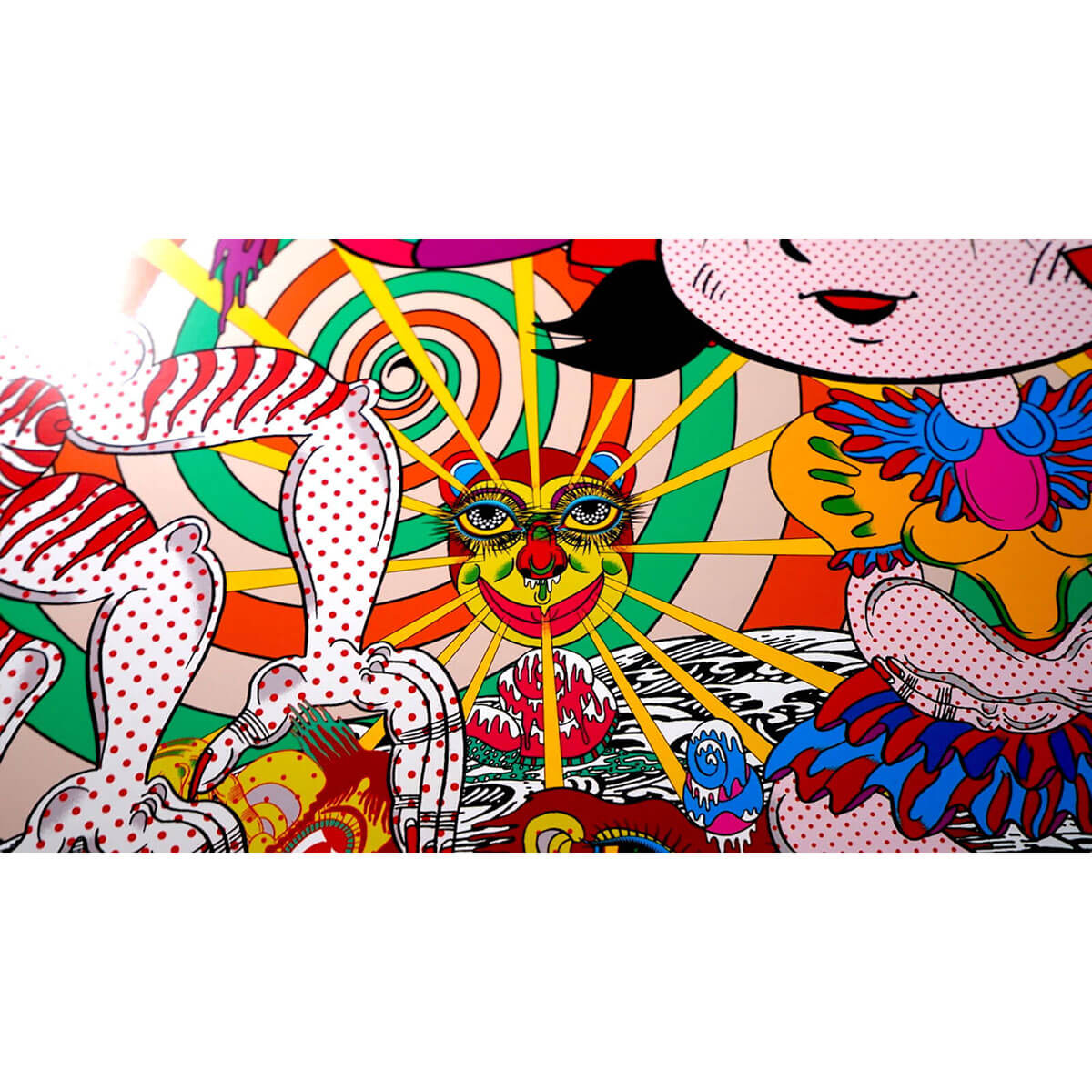 5. Why did you decide to use gravure printing for Revolver?
Gravure printing at Shueisha came to an end in 2021 with the transition to offset printing. Apparently many other publishers have also discontinued the use of gravure printing. Historically, when older printing methods previously used in commercial printing, such as lithographic printmaking, are replaced by new printing techniques, they often find their way back into the market through art prints.
However, gravure printing presses are behemoths of the print world, measuring approximately 15-20 meters high and 60 meters across, and are not something that can easily be stored and kept in operating condition. Once a gravure press is stopped, the process to start it up again is extremely complex. In order to preserve and document gravure printing, a printing process which created and nurtured the postwar magazine culture, photography culture and publishing culture, we would like to produce art prints using gravure and pass it down to future generations. When we thought about who to entrust such a project to, Keiichi Tanaami, who worked on many gravure magazines during their heyday, was the first person who came to mind.
The first meeting with Tanaami took place in September 2021, followed by several meetings.As of mid-November he had already created about 20 artwork files, 6 of which were produced as gravure prints.With an edition print run of just 111 copies printed on a machine capable of producing one million, the project could be considered unprecedented.
6. For the Riyoko Ikeda piece, what relationship does the music have with the artwork?
The idea to collaborate with a violinist with Riyoko Ikeda came after reading an article that said that Oscar from The Rose of Versailles liked listening to Mozart's violin pieces. Ikeda herself mentioned a violinist she really admires; Teiko Maehashi, who studied in Leningrad in the former Soviet Union and at Julliard, and has traveled the world performing. The two had not previously been in touch, but when contacted regarding SMAH, Maehashi responded "By all means," and the collaboration was realized. An interview with Ikeda and Maehashi is available on the SMAH website.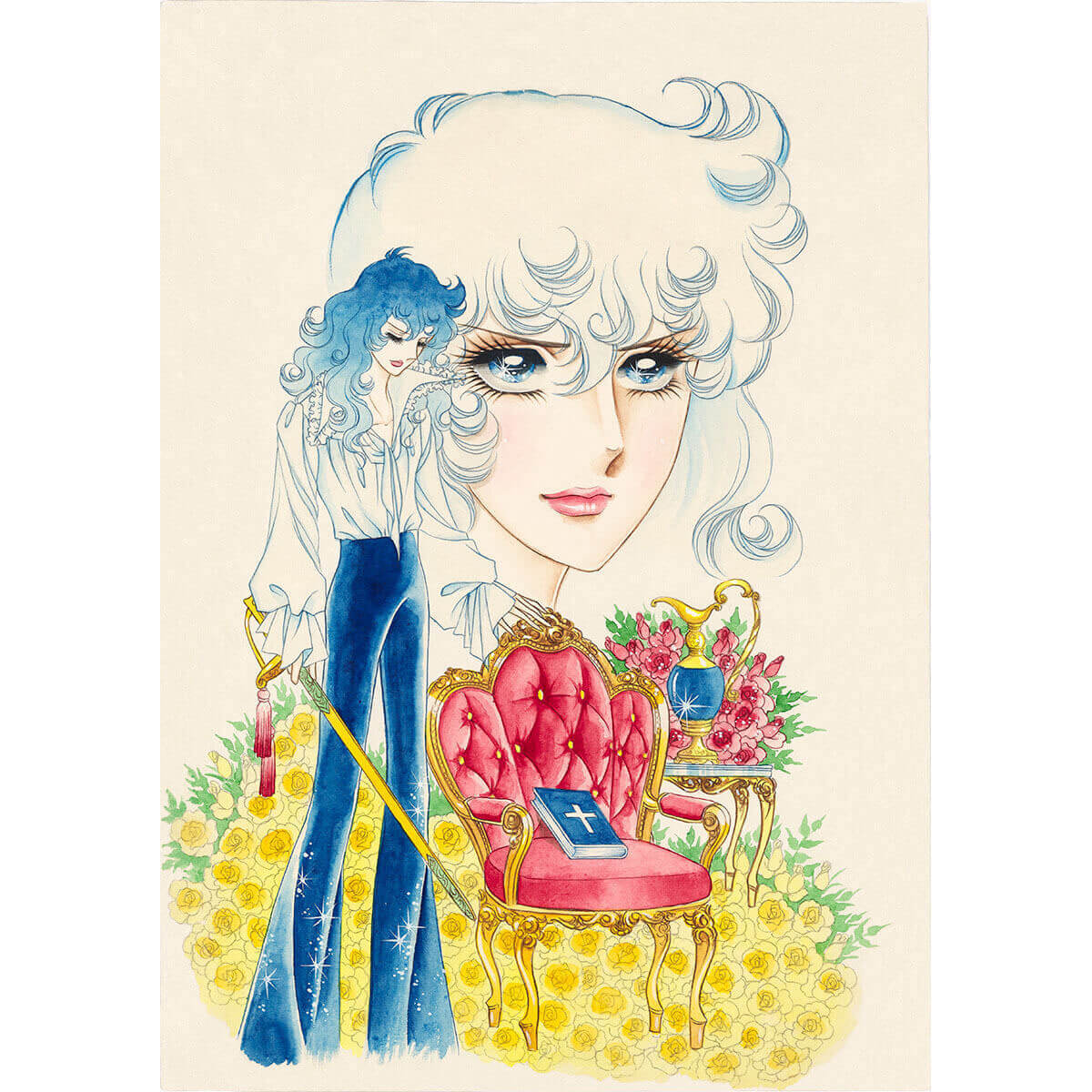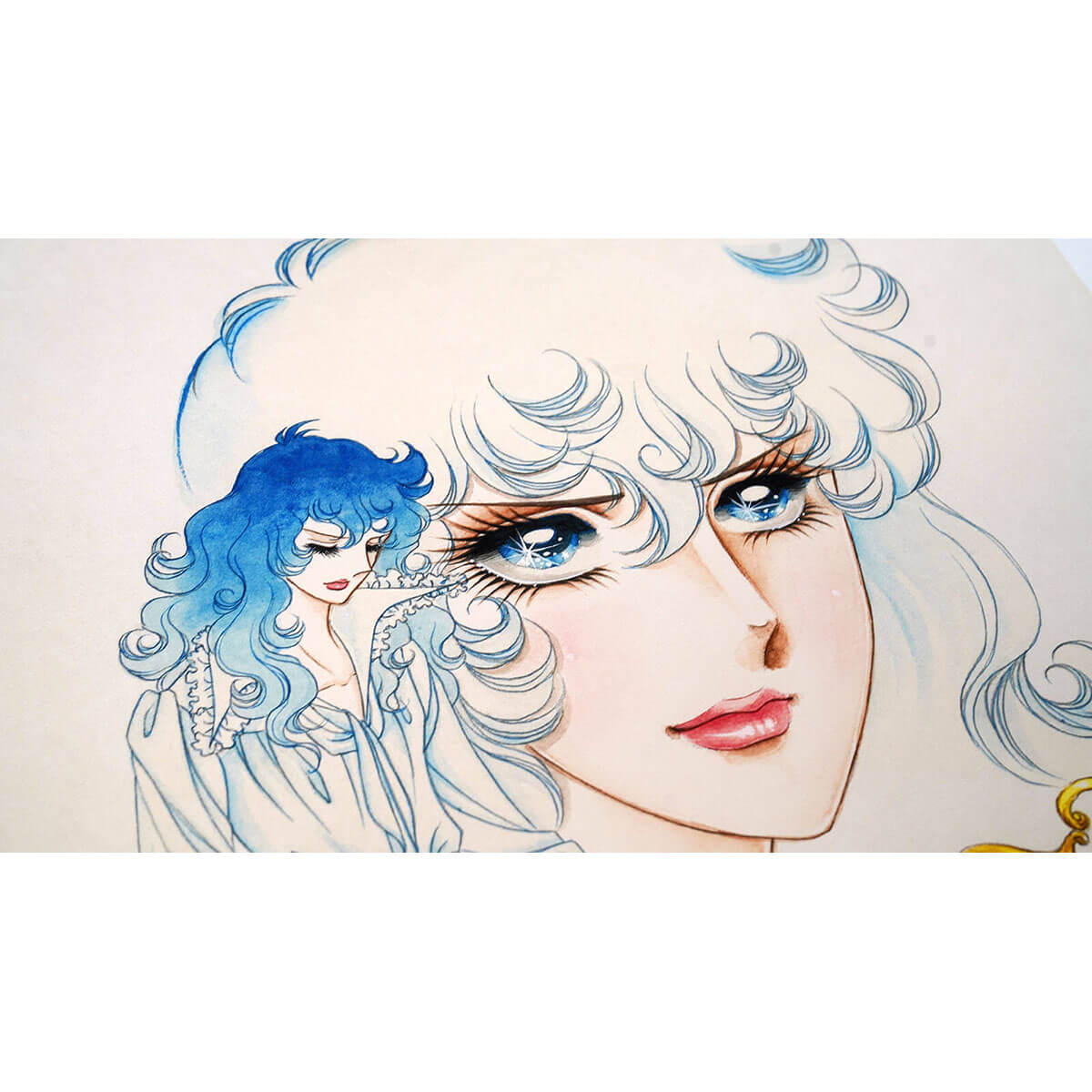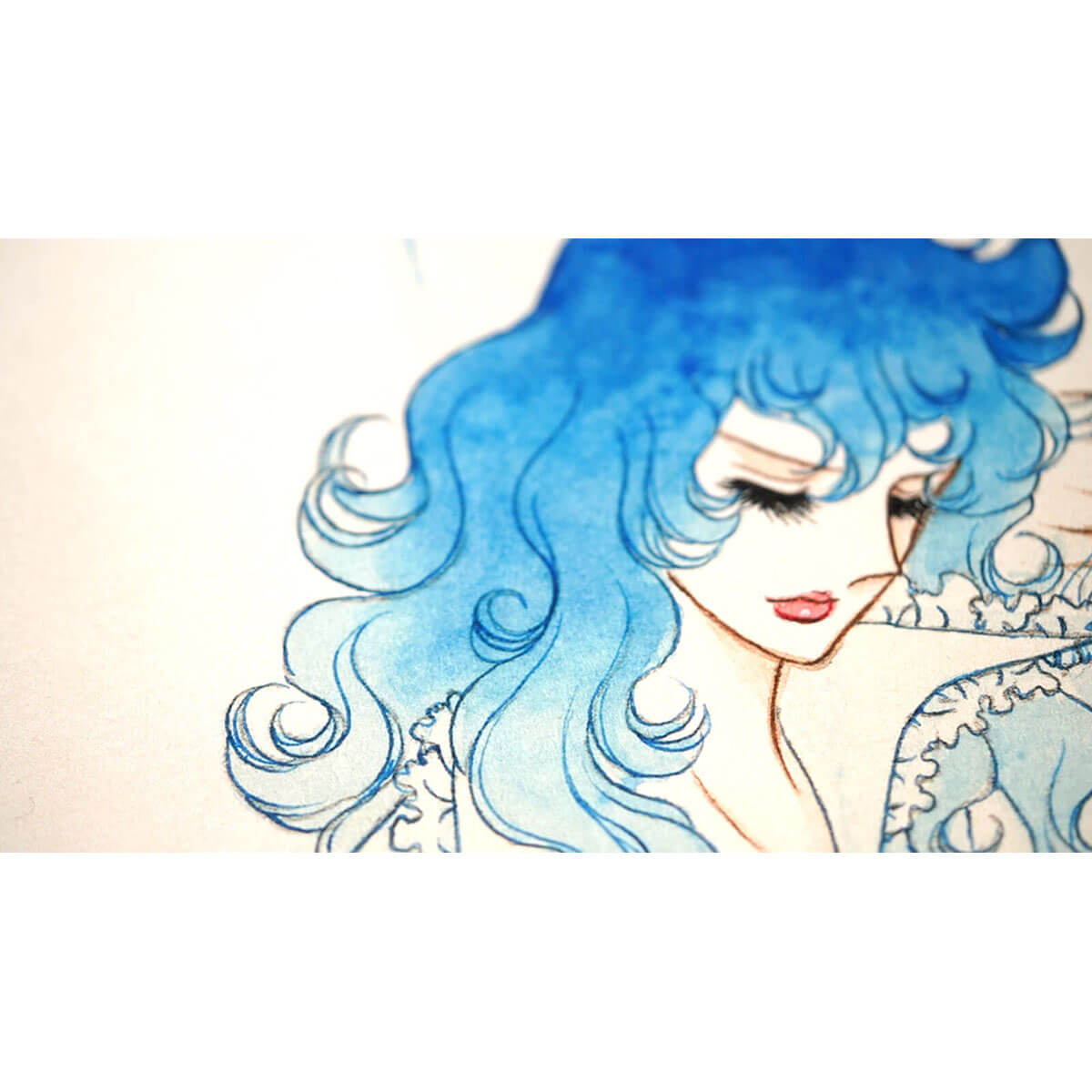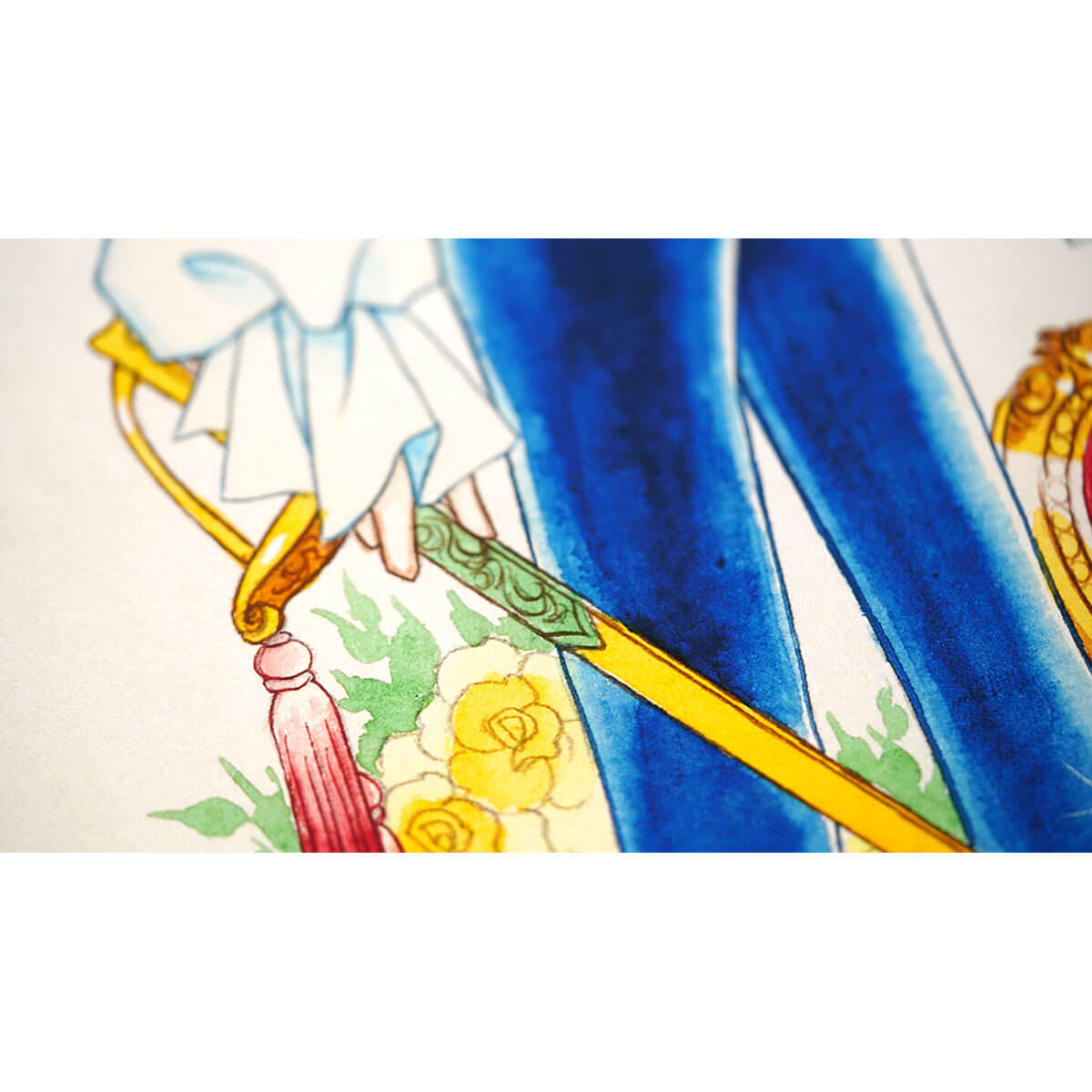 7. How do you think the limited edition manga artworks will appeal to both manga fans and art collectors?
When selling limited-edition prints, we were concerned that if they were sold on a first-come, first-served basis, people who truly love the artwork may not be able to purchase due to purchases made for the purpose of resale. To prevent this, we introduced the idea of lottery sales. While the artworks are linked to NFTs, we are considering offering services that take advantage of their unique characteristics in the future. Please look forward to it.
8. What do you hope this artwork will contribute to the overall legacy of manga art heritage and the culture surrounding it?
The letterpress machines used for "The Press" had not been used to print manga before this project. What could have been lost in terms of printing technology as well as the machine itself was given new life when combined with manga and blockchain technology, and has received worldwide recognition, including the 2021 Gmund Award grand prize in the art category.
We would like to continue working to archive and preserve original manga artwork, as well as pass on traditional skills and techniques that shape the expression of manga to the next generation of creators.
By documenting and showcasing the paper and printing processes involved, which have not received much attention in the past, and making more unique combinations and connections, we hope to expand the world of manga in a richer way.
ONE PIECE / ©️Eiichiro Oda/Shueisha Inc. All rights reserved.
Rose of Versailles /©️Ikeda Riyoko Productions /Shueisha Inc. All rights reserved.
TANAAMI!! AKATSUKA!! / ©Keiichi Tanaami Courtesy of NANZUKA ©️Fujio Productions Ltd. / Shueisha Inc. All rights reserved.
BLEACH / ©Tite Kubo / Shueisha Inc. All rights reserved.