Introduction
We've worked with some of the best list designers in the MAL community to bring you official Tokyo Revengers designs for your Anime/Manga List!
One of MAL's best features is the ability to fully customize your Anime/Manga List design to your liking. However, for beginners to CSS, it can be a little daunting. That's why we thought a tie-up with the Spring 2021 hit anime, Tokyo Revengers, would be a great way to offer more options.
Grab one of these list designs for yourself before July 21 and get hyped for the second season coming soon~ (And don't forget to add it to your Plan to Watch!)
Availability
Dates: April 21 to July 21
After July 21, the Tokyo Revengers list designs will no longer be available. If you'd like to save the design for future use, please transfer the CSS code to one of the default designs (instructions below).
List Designs
Flaming Elegy
Created by: Hahaido
Available characters: Takemichi, Mikey, Draken, Baji
Features: A dark, titled design with wispy burning embers. Multiple columns can be enabled and all information should appear in each anime's card design.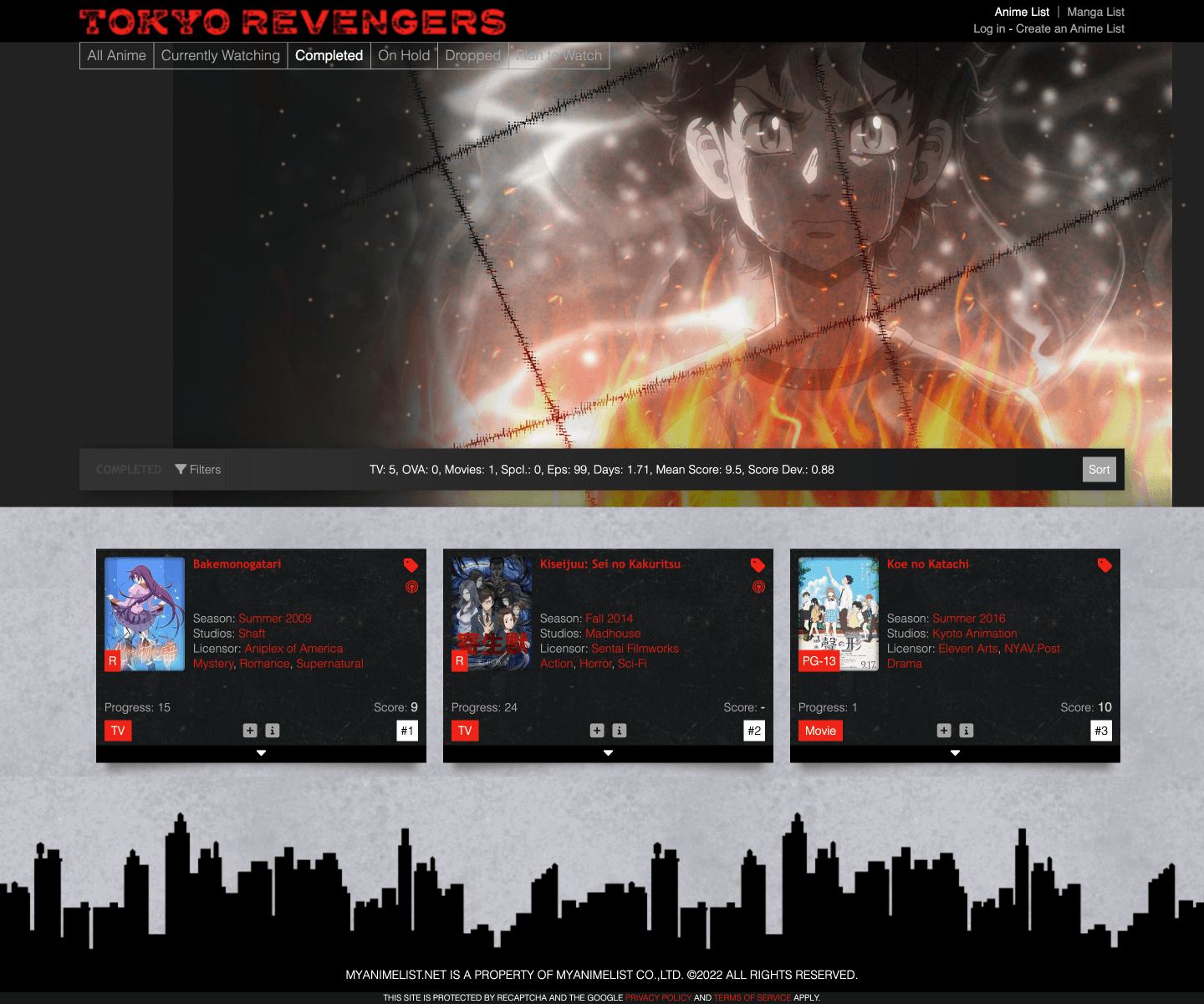 Haze
Created by: Half_Bl00d
Available characters: Mikey, Draken, Mikey & Draken
Features: A dark row-style design with hazy city backdrop. Anime information stacks into neat blocks and the design supports both few to many enabled columns.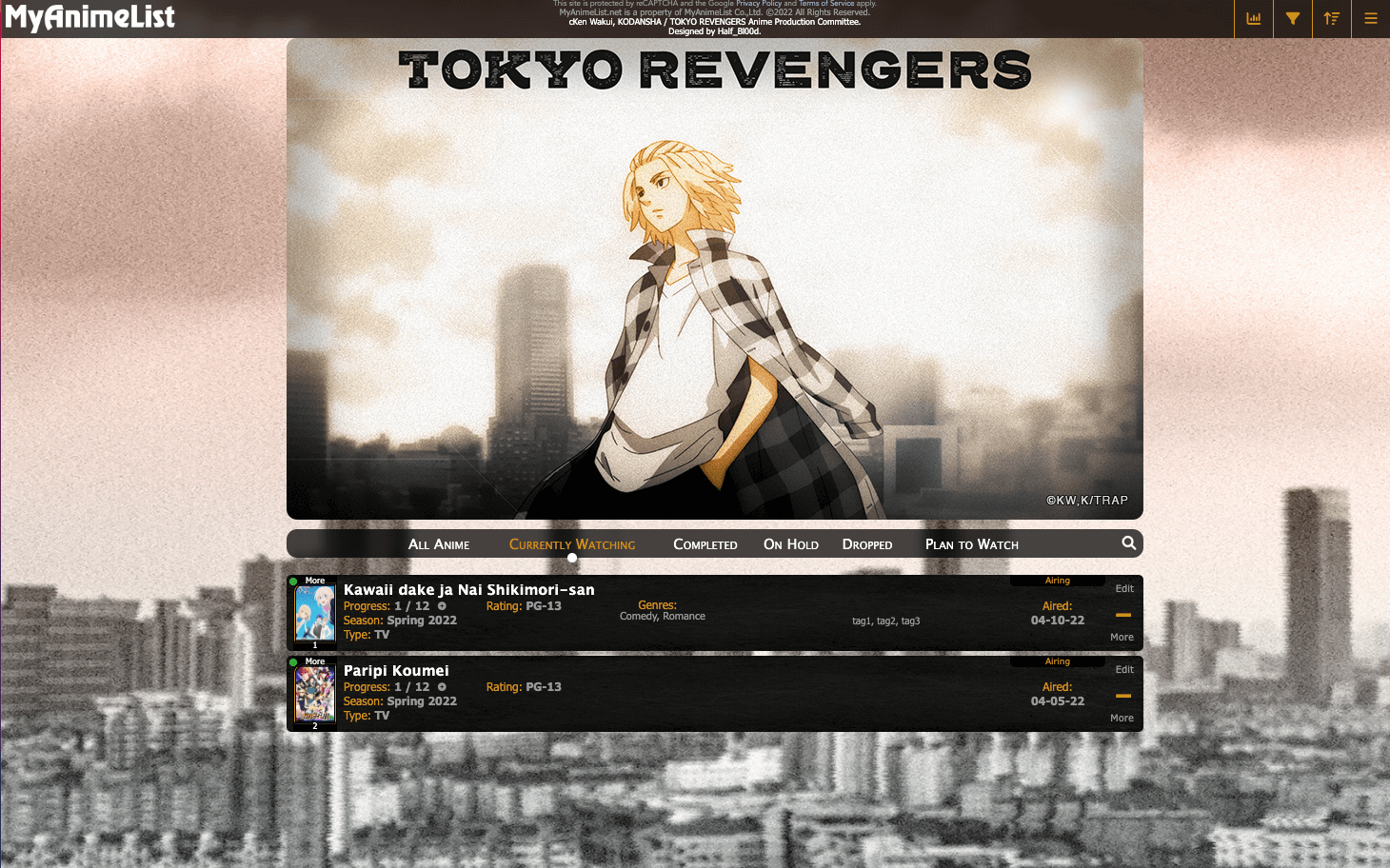 Endless Summer
Created by: Cateinya
Available characters: Baji & Kazutora (Dark), Takemichi, Mikey & Draken (Light)
Features: A tiled design with large image covers. Hovering the thumbnail brings up a card with detailed information about the anime. Choose light or dark (or use both).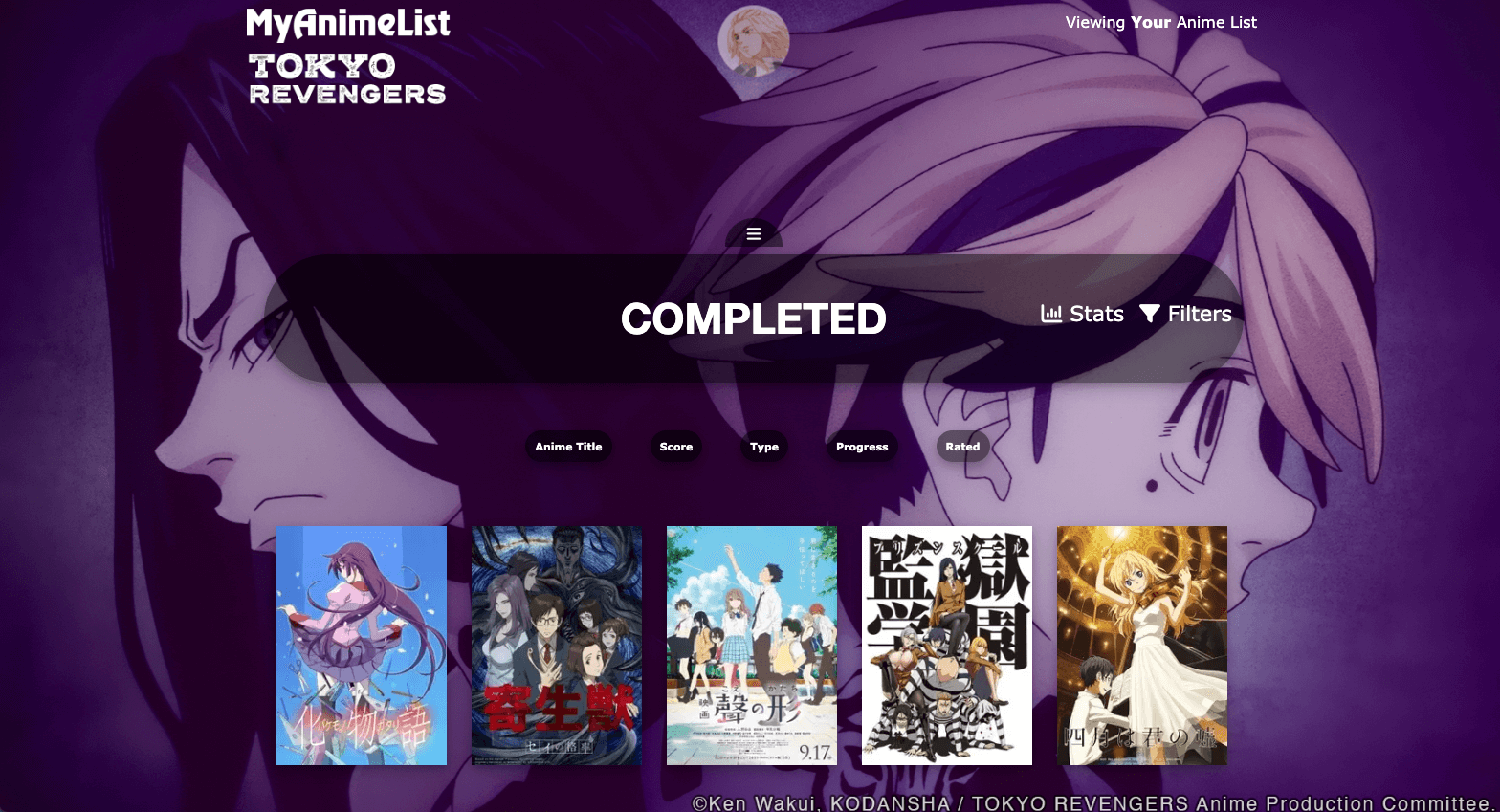 Note: You will need images enabled in your list settings for this design to work properly.
Clarified
Created by: Valerio_Lyndon
Available characters: All! Different character images appear on different status tabs~
Features: Light or dark mode combined into one design, this powerhouse style automatically adapts to your operating system settings. Clean and crisp, but feature packed.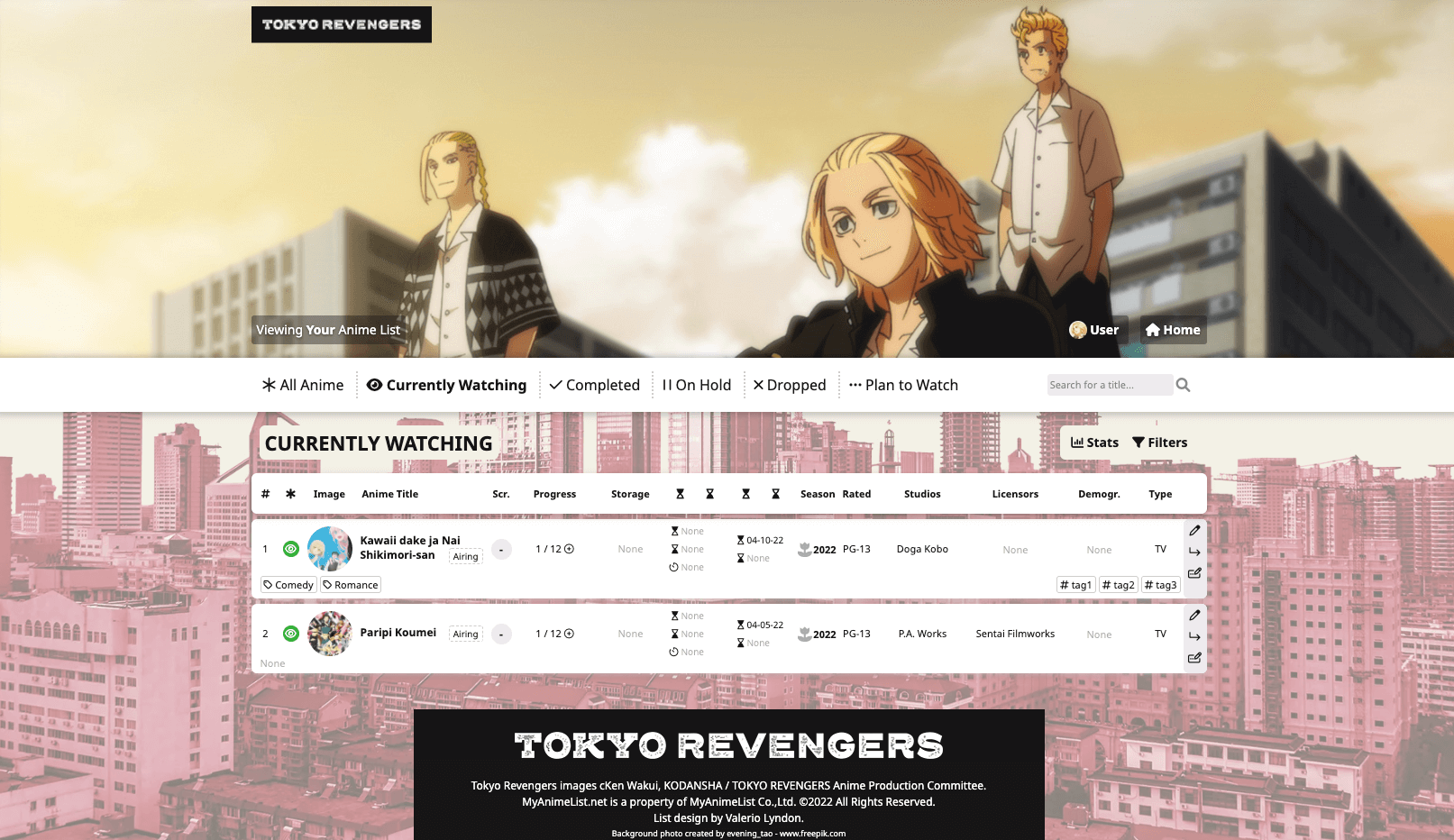 Mirai Remix
Created by: Lulech23
Available characters: Hina
Features: Another tiled design with large image covers and satisfying card flip feature to display more information on hover. Also automatically adapts its light or dark mode appearance based on your operating system settings.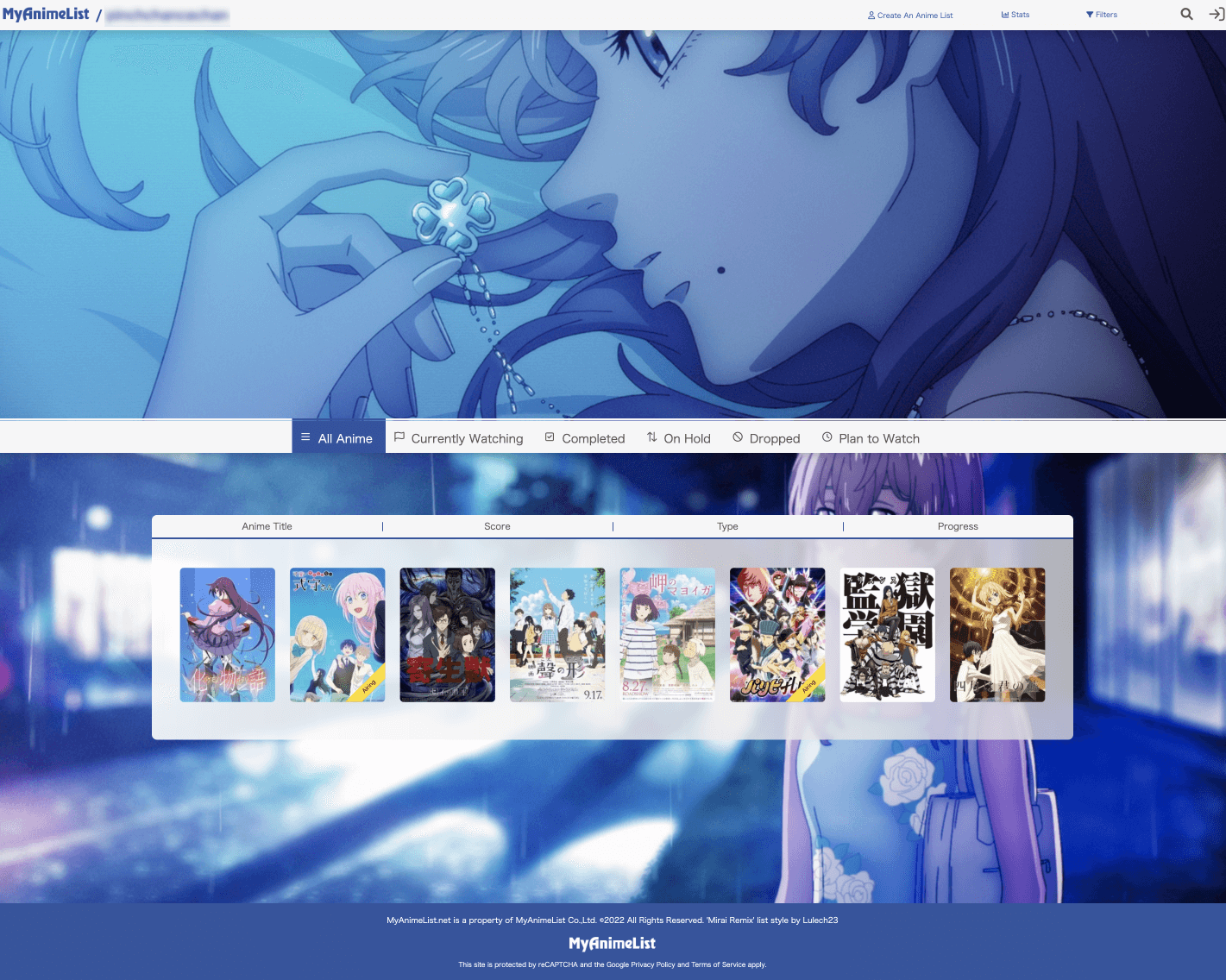 Dark & Simple
Created by: Shishio-kun
Available characters: Hina
Features: For the people who want to see it all! This dark and simple design accommodates every single column available in the list settings page. Enable as many as you like~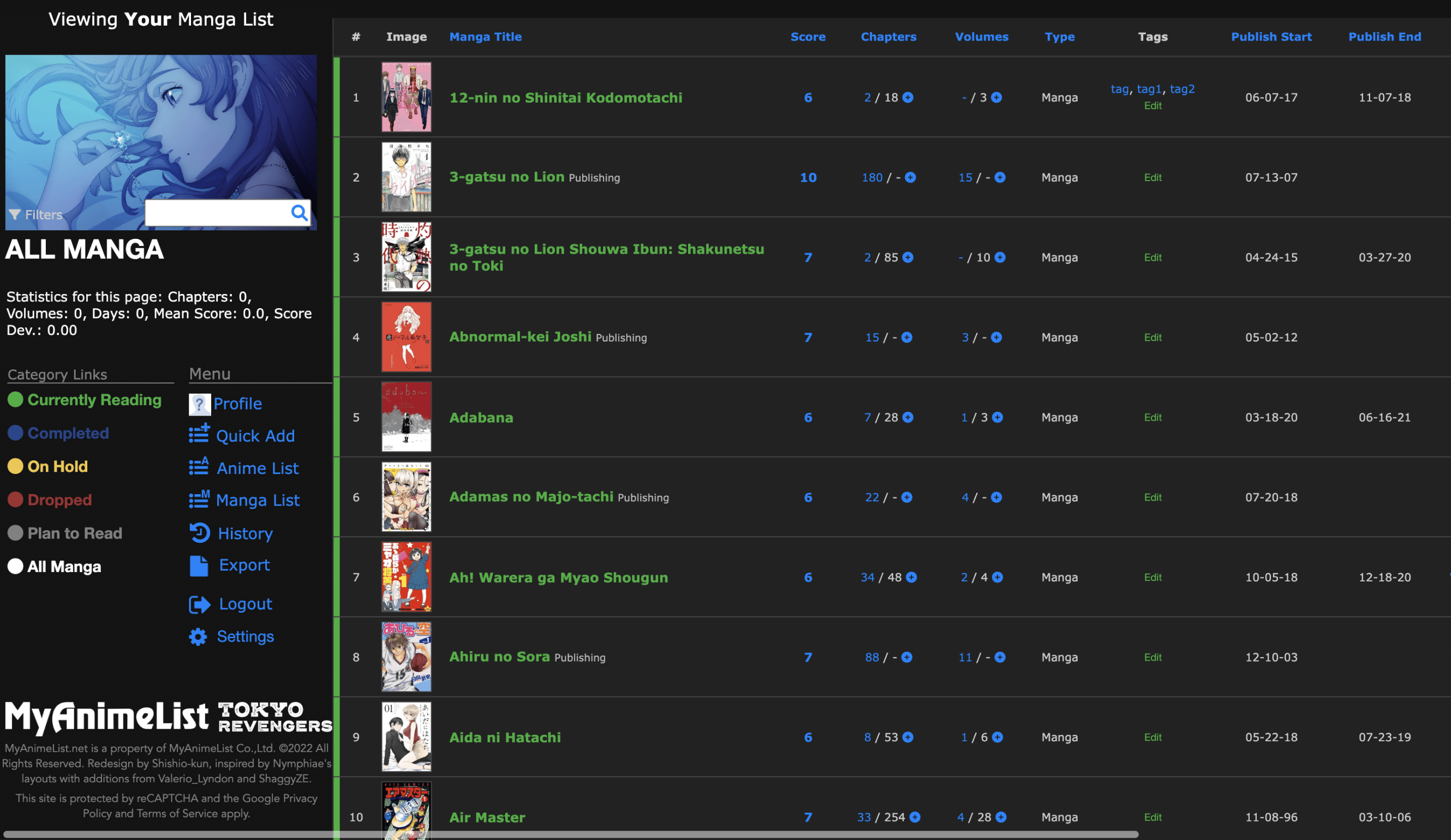 How to Use
Make sure you have Modern list style enabled on the list style page.
Click on the Anime or Manga radio button to select the list design you like. You can use different designs for your lists or the same, it's up to you!
Click Save.
(optional) You can click on the thumbnails to test each of the list designs before choosing.
(optional) Use the list settings page to add or remove columns you would like to see!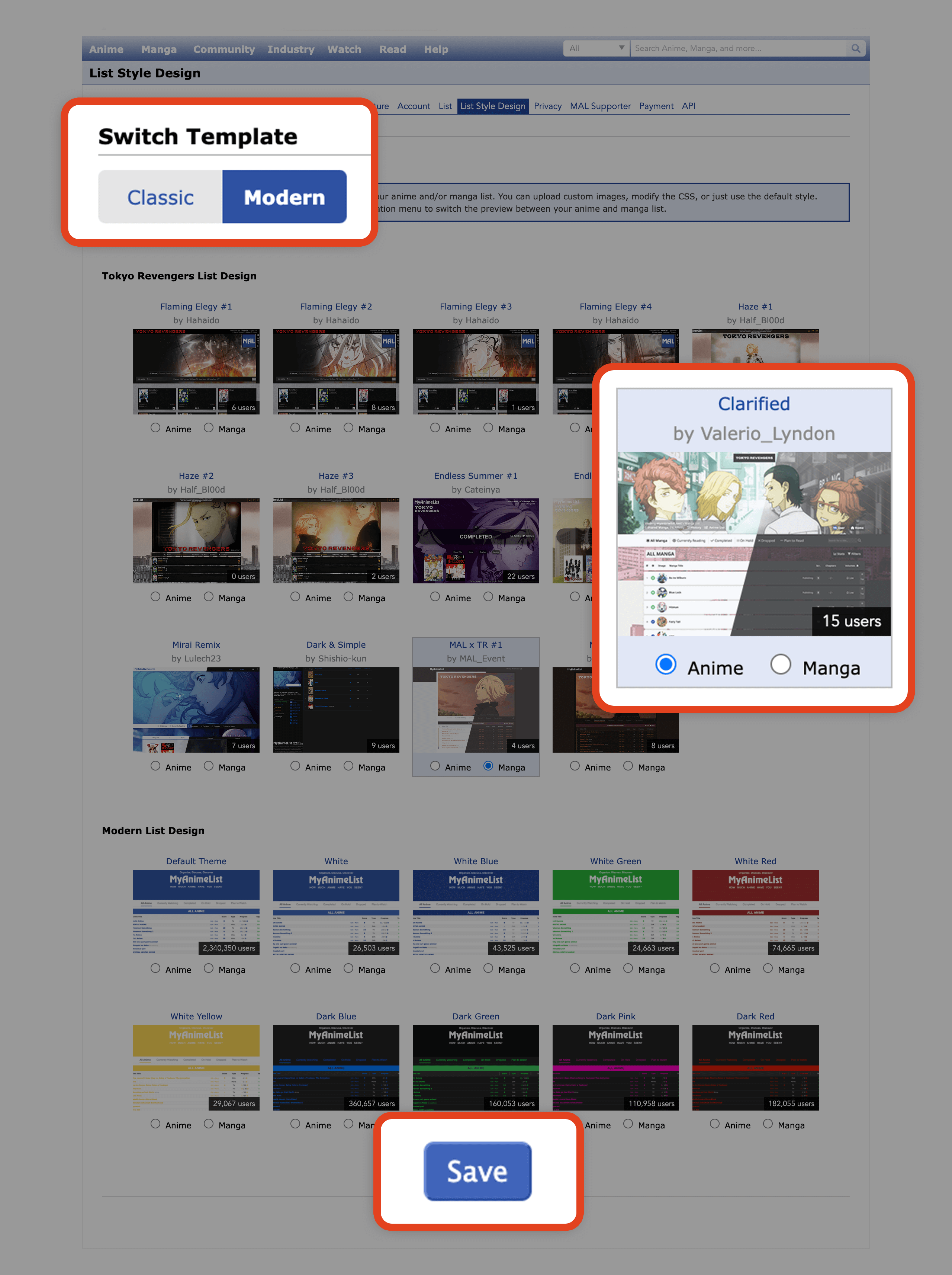 After July 21
You will be able continue using the design until you change to a new design. If you would like to save the design to use again at a later date, please follow these steps.
Click on the TR design thumbnail to open the editor window.
Click on Add Custom CSS → Show Original CSS
Select ALL of the CSS shown in this box and copy it to your clipboard or paste it into a Notepad file to be safe.
Go back to the design page and click on the Default Theme thumbnail to open the editor window.
Click on Add Custom CSS and paste the CSS into the empty box which appears. If for some reason the box does not appear, click the Save button directly below that box and try again. It should appear.
Click Save. The window will update to show the design. Make sure it is working as intended to be sure you didn't miss a line of the CSS.
Go back to the design page and switch your Anime/Manga List from the TR design to the Default Theme design.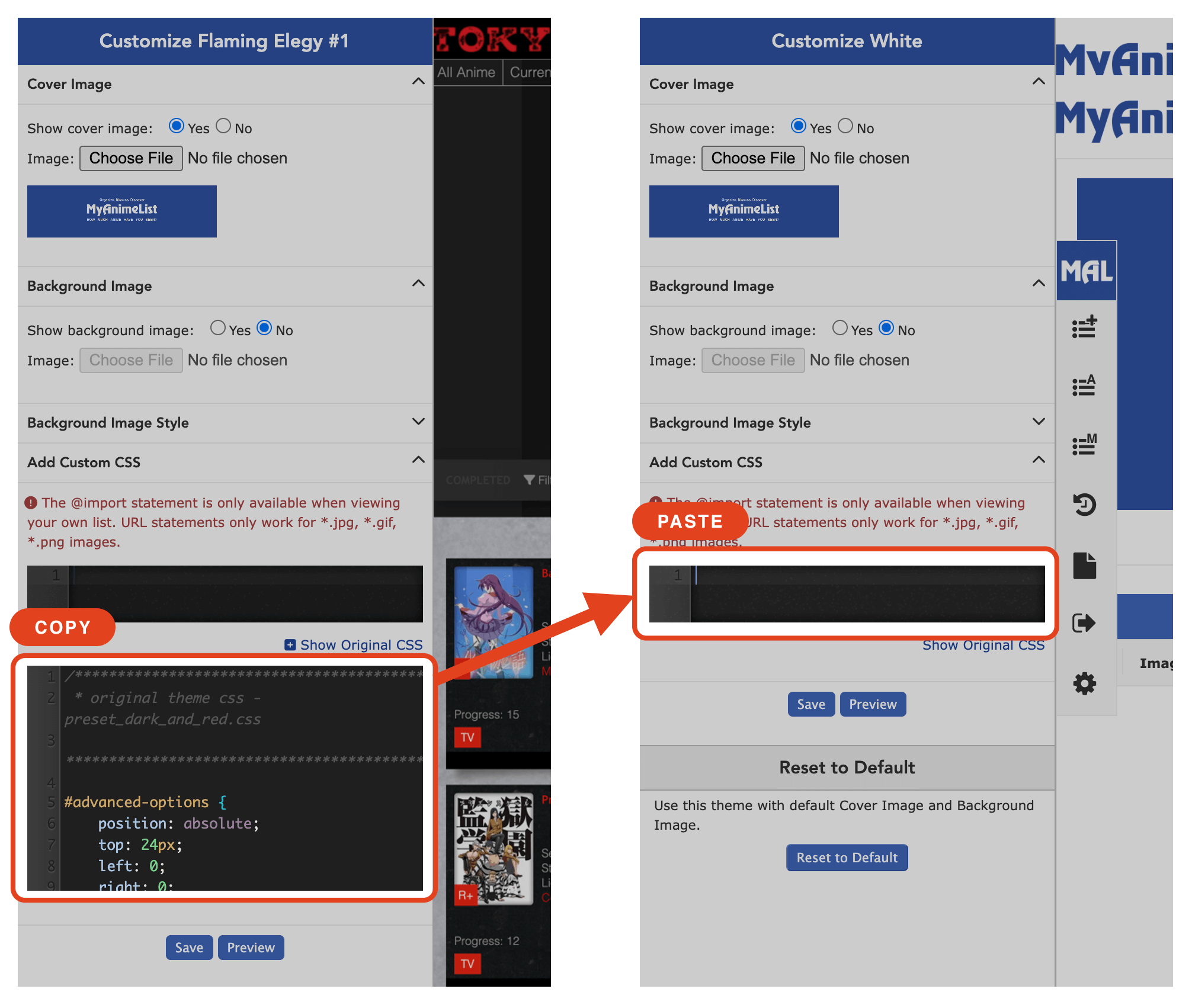 What is Tokyo Revengers
Tokyo Revengers adapts Ken Wakui's action drama manga, which began in Weekly Shounen Magazine in March 2017. The first season produced by LIDENFILMS aired with 24 episodes in Spring 2021. Crunchyroll simulcast the anime series with subtitles.
Synopsis
Takemichi Hanagaki's life is at an all-time low. Just when he thought it couldn't get worse, he finds out that Hinata Tachibana, his ex-girlfriend, was murdered by the Tokyo Manji Gang: a group of vicious criminals that has been disturbing society's peace for quite some time.
Wondering where it all went wrong, Takemichi suddenly finds himself traveling through time, ending up 12 years in the past—when he was still in a relationship with Hinata. Realizing he has a chance to save her, Takemichi resolves to infiltrate the Tokyo Manji Gang and climb the ranks in order to rewrite the future and save Hinata from her tragic fate.