MyAnimeList is to broadcast a free-of-charge live event titled "MAL Anime Academy" at 5pm (Pacific Time) February 25 2022, as part of the larger MAL EXPO Lite 2022 series of events.
MAL Anime Academy will be a panel-style talk event, with panelists from top anime studios Production I.G and WIT STUDIO. The panelists will be talking about the processes involved in anime production and answering questions sent in by fans from across the world.
With distance, language and now even a pandemic in the way, it can often feel like there is a barrier between even the most passionate of fans and the creators they aspire to. With MAL Anime Academy as just one example, MyAnimeList endeavors to increase opportunities for fans to connect with the creative minds of the industry and gain a deeper insight into the making of their favorite content.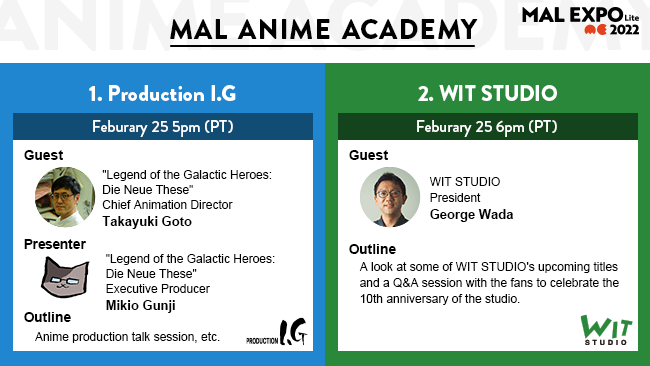 About MAL EXPO Lite 2022
MAL EXPO Lite 2022 is the very first online expo to be held by MyAnimeList, a global anime and manga fan community with over 18 million monthly active users from 240 nations and territories.
Included in the agenda are multiple events that aim to bring anime fans from all over the world closer to their favorite creators.
MAL EXPO Lite 2022 Portal: https://mxj.myanimelist.net/expo2022/
MyAnimeList intends to hold further online expos in the future.
MAL Anime Academy
Some of the most top names in the anime industry have been invited to a panel to talk about what goes on behind-the-scenes of your favorite anime. As well as giving a short lecture, the guests will also be answering questions sent in by fans across the world.
Fans lucky enough to have their questions answered during the panel will also be sent a gift from the participating anime studios.
Start time: February 25 5pm (PT), 2022 (subject to change)
Location: Official MyAnimeList YouTube Channel https://www.youtube.com/channel/UCh9-2toOnr2QYjQBqmO0yJQ
Cost: Free-of-charge
Web page with more details: Due to be released on February 17, 2022
Schedule
Production I.G Talk
February 25 5pm (PT), 2022 (subject to change)
Guest
Takayuki Goto (Legend of the Galactic Heroes: Die Neue These Chief Animation Director)
Presenter
Mikio Gunji (Legend of the Galactic Heroes: Die Neue These Executive Producer)
Panel contents
Anime production talk
Q&A Session
A look at expo-exclusive items: key animation still replicas signed by Takayuki Goto
This event will also see the sale of some exclusive official replicas of key animation stills from Legend of the Galactic Heroes: Die Neue These, signed directly by Production I.G's Takayuki Goto. These premium items let fans get a real taste of the production of the anime. (On sale outside Japan only)
WIT STUDIO Talk
February 25 6pm (PT), 2022 (subject to change)
Guest
George Wada (President of WIT STUDIO)
Panel contents
A look back on 10 years of WIT STUDIO and introduction to newest titles
Q&A Session
About Production I.G
Founded in 1987 as a break-off branch of Tatsunoko Production, Production I.G's 1995 release Ghost in the Shell (directed by Mamoru Oshii) reached the top spot in the US Billboard Video Sales Chart. Its 2004 sequel, Innocence, was the first Japanese animation invited to compete for the Palme d'Or at the Cannes Film Festival. At the forefront of Japanese animation talent, the studio has earned the recognition of fanatics around the world, and was even in charge of the animated sequences in Quentin Tarantino's Hollywood blockbuster Kill Bill: Vol. 1. Production I.G continues to produce animated works in a wide variety of genres, such as Kuroko's Basketball, PSYCHO-PASS, Ghost in the Shell and Legend of the Galactic Heroes: Die Neue These.
About WIT STUDIO
WIT STUDIO is a Tokyo-based animation studio founded in June 2012 with the mission "Using animation to create content that exceeds the imagination of the audience and giving them an experience they have never had before."
Making the most of its strength as a group of top professionals, the studio incorporates its myriad of unique talents and abilities to create original works that can only be created as a team—works that will remain in the hearts of those who see them.
Without being swayed by current trends, the studio has faith in the universal values of WIT STUDIO and the creativity of its creators, and will use those to continue to transmit anime from Japan to the world.
2022 is no exception when it comes to having exciting anime. Be sure to watch out for the second half of Ranking of Kings this winter and the much-awaited Spy x Family this spring as WIT STUDIO celebrates its 10th anniversary!