Introduction
January 8 2am (PST) / January 8 7pm (JST)
fripSide VIRTUAL LIVE 2022 in VARK will be held virtually with the 2 members of fripSide performing using 3D avatars.
The performance will allow you to experience their music like never before, made possible only with the use of virtual reality.
Event name
fripSide VIRTUAL LIVE 2022 in VARK
Performers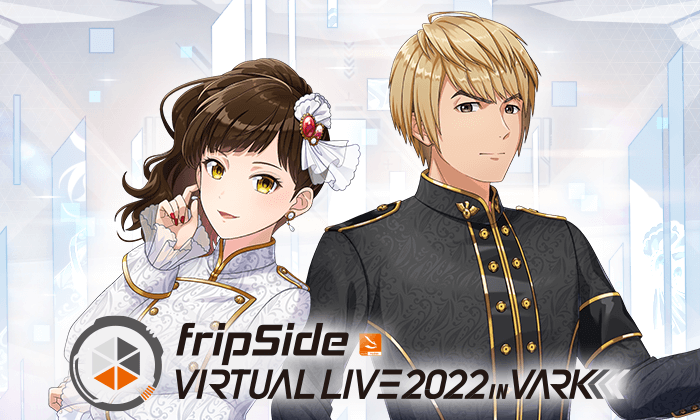 fripSide was formed in 2002 by Satoshi Yaginuma (nickname "sat").
Yoshino Nanjo joined in 2009 as the group's new vocalist and together with Satoshi the duo made their presence known in the anisong scene with their first single "only my railgun", opening theme to hit anime A Certain Scientific Railgun.
They continued to create music for a number of popular anime titles, and in May 2013 reached #1 on the Oricon Singles Chart with "sister's noise", opening song for A Certain Scientific Railgun S.
fripSide have held solo live performances at large-scale venues such as Yokohama Arena and Saitama Super Arena, as well as headlining major festivals across Japan and overseas, demonstrating their immense talent and popularity.
November 2019 marked the 10th anniversary of Yoshino's addition to the group, and to celebrate the occasion they embarked on a special 10th anniversary tour and also released two "Best Of" albums for the first time.
Despite delays and cancelations due to the pandemic, the 10th anniversary tour went out with a bang with the final performance being held in February 2021 at the Yokohama Arena.
Streaming Date
January 8 2am (PST) / January 8 7pm (JST)
Please be sure to check the start time for your own timezone.
A catch-up stream is available for ticket holders until 16 January 2021 (based on Japanese timezone)
Buy Ticket
You can buy live streaming tickets via the third-party site ZAIKO. Please select your country or region.